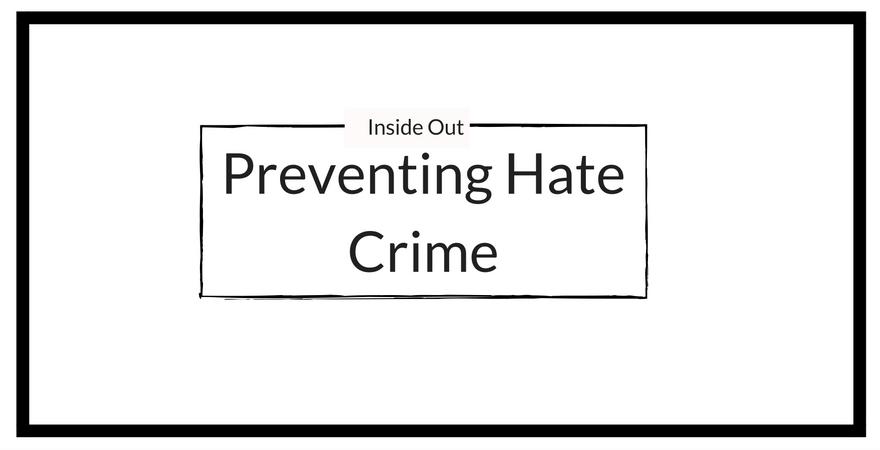 Inside Out – Preventing Repeat Hate Crime
Open Awards are delighted to announce that we have been successful in our bid for Home Office funding to deliver equality and diversity workshops in pupil referral units; youth offender institutes; and prisons in Merseyside and the North West. This is one of 9 community projects to receive a share of £300,000 for innovative schemes to help tackle specific types of hate crime.
We will be delivering this project in partnership with The Just Group who are a Liverpool-based organisation whose values strongly align to those of Open Awards. Their aim is to 'Create Change Through Acceptance' by tackling injustice in business, in education and in communities. For more information on the Just Group, please visit their website. Both organisations will also be working closely with Bread Media  - a Communications Consultancy- who will be monitoring outcomes and providing visual impact reports.
Jo Nicol, Operations Director Bread Media: "Bread Media are excited to begin work alongside these two wonderful partner organisations, developing an innovative response and winning the bid came as a result of combining our knowledge to co-create a unique approach". 
Our joint project will focus on meeting two of Government's hate crime aims, namely:
Preventing hate crime – by challenging the beliefs and attitudes that can underline such crimes; and
Responding to hate crimes in our communities – reducing the number of hate crime incidents. Our unique approach incorporates many of the specific elements the Home Office is looking for within this funding, specifically:
Working with children & young people to prevent discriminatory attitudes and behaviour that could lead to hate crime;
empowering and supporting children and young people to challenge discriminatory attitudes and behaviour that could lead to hate crime;
countering hate narratives online using social media;
developing positive social narratives for young people;
Tackling the harm and impact on the wider community caused by hate crime.
Aim 1 - This project will focus on working with young people in Youth Offender Institutions and/or Pupil Referral Units to deliver an accredited programme of educational modules which have been designed to inform and educate people about the protected hate crime characteristics, namely: LGBT; race; religion; and disability. The programmes have been developed in such a way as to create a ripple effect within the community whereby delegates are imbued with:
new knowledge (the pebble in the pond), creating a ripple effect leading to…
improved behaviours replacing learned behaviours, which leads to…
greater understanding of other parts of society and enhanced empathy; so that…
previously heightened risks within the prison/YOI are mitigated, leading to…
a better societal environment & cohesion within & beyond the YOI, meaning…
a reduction in repeat hate crime both in the YOI and after offenders are released.
Figure 1 – Building Empathy - The Ripple Effect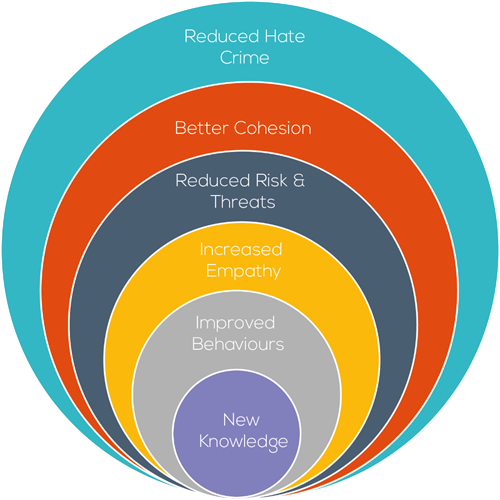 Aim 2 - This project will use the data and feedback collected throughout the delivery to develop a curriculum package which can be rolled out across education and offender learning providers. This will include developing a package of bespoke accredited units and/or qualifications which can be used to set a national standard of behaviour change education materials and accreditation. These will be developed in partnership with the participants to ensure they are appropriate across a range of settings and abilities.
Both Open Awards and The Just Group are working together over the next few weeks to set the project up and it is anticipated that delivery will begin in January 2017. If you work with learners who would benefit from attending these workshops, please contact Nina Hinton on 0151 494 2072 or nina.hinton@openawards.org.uk
More information about this Home Office Funding and the other community projects that have been successful can be found here