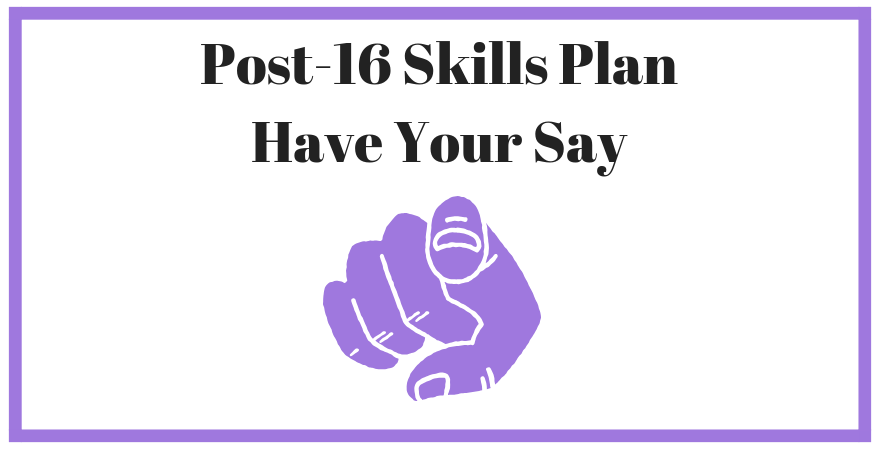 On 19 March, the Department for Education released a consultation on the Review of post-16 qualifications at level 3 and below in England.
We strongly recommend that all our approved centres read the proposals and submit a response to the consultation. The proposed changes could significantly and directly impact your education and learning provision. Although the detail of the proposals are not yet determined, there is a clear expectation that there will be far fewer qualifications at level 3 and below approved for funding for post-16 provision in the future.

Nina Hinton, Head of Business and Development
What do the Proposals Mean for Open Awards?  
A high proportion of Open Awards' qualifications are currently approved for Advanced Learner Loans or funded through the Adult Education Budget, and those listed on the ESFA 16-19 funding list. These funding streams are utilised by our approved centres to deliver our qualifications to collectively support our mission to 'Change Lives Through Learning'.
Under the proposals, these flexible types of qualifications would not be eligible for funding across all awarding bodies, leading to the disappearance of these types of qualifications that we know are valued by learners, providers and employers alike.
If Adult Education Budget, ESFA 16-19 and Advanced Learner Loan funding is withdrawn, this could prevent you choosing to utilise a wide range of qualifications going forward.
In particular, our  most popular suite of qualifications 'Skills for Further Learning and Employment' could be excluded from funding. We have countless case studies from our centres about how they use this qualification to support creative and innovative study programmes, to achieve meaningful outcomes and aspiration progression for our collective learners.
Scope of the Review
"The review covers the qualifications at entry level, level 1, level 2 and level 3 that are approved for funding for providers in England for their students aged 16 and over. It includes qualifications approved for Advanced Learner Loans, those mandated for inclusion in apprenticeships, those funded through the Adult Education Budget and those listed on the ESFA 16-19 funding list.
The review does not include: GCSEs, AS levels, A levels, Functional Skills in Maths and English, T levels and Basic Digital Skills Qualifications."[1]
The closing date for feedback is 10th June 2019. This stage of consultation is focused on the general principles that should apply to post-16 qualifications.
Phase 2 (due later in 2019) will set out more detailed proposals for change.
There are four key principles outlined in the proposals, aiming for all post-16 qualifications to:
1 – Have a distinct purpose
2 – Be  truly necessary in the new simplified system
3 – Support progression to successful outcomes (to higher level of study or a meaningful job)
4 – Be good quality
Whilst Open Awards agrees with these broad principles (indeed they are already embedded throughout our qualification development procedures), the detail of how they will be implemented could lead to many of our, and other awarding bodies', qualifications being excluded from funding, and therefore being withdrawn from the register altogether.
In particular, the following proposals give cause for concern:
Qualifications with low enrolments – the proposal is to withdraw approval for funding for qualifications with low enrolments. (See paragraph 100 for the criteria)
We have a number of qualifications that fall into this category. However, this is not a reflection on the quality, purpose or progression. The low number of registrations is due to their purpose of supporting a niche vocational area or a specific cohort of learners. For these learners, these qualifications are essential and support their progression to further learning or employment.  
Qualifications in personal, social and employability skills – the consultation asks if standalone qualifications in these areas are really necessary.
Open Awards have a high number of qualifications in these areas, including:
Employability and Professional Development
Individual Capital Development
Personal Progress
Independent Living
Academic and Professional Behaviours
These are used across a wide range of schools, colleges, training providers and third-sector organisations to support learners to develop knowledge and skills essential for progression into meaningful employment. These qualifications provide a structured approach to the development of softer skills that employers say are essential for the world of work. They are used to ensure a high-quality provision for cohorts of learners that often face barriers to traditional, academic routes. Indeed these are the skills that employers consistently tell us they are looking for when they recruit into jobs and apprenticeships. The new Retraining Scheme is focusing on these areas pf development for Adult learners so why should young people not be able to access the same opportunities?  
Level 1 and below – views are sought on what are the key roles that qualifications at level 1 and below need to play and whether there are additional principles that should be applied to level 1 and below.
Open Awards understand the needs of our learners who are entering the world of post-16 education at entry level and level attainment levels. We understand that this cohort have specific educational and support needs. We are aspirational in our vision for these learners and our qualifications, and we know you are too.  Our qualifications at Entry Level and Level 1 have been designed to meet this cohort's needs and to support you to provide educational programmes that can be tailored to individual's objectives.
Implementation of moratorium on new qualifications - implementation will include the introduction of a moratorium on new qualifications, so that no further new qualifications are approved for funding during the review period. No further information provided on this.
Again, in this fast changing world this causes us concern. We all need to be able to respond quickly to new local challenges and opportunities. We are responsive to your feedback with regards to new qualifications required. We have a number of qualifications currently in development that are designed to support quality provision and meaningful progression. A moratorium on new qualifications during this review period could impact your delivery plans as we work together to develop and implement innovative and effective curriculum.
Open Awards will be responding in full to the consultation but encourage you to do the same. The link to provide feedback is here, or you can email your views to nina.hinton@openawards.org.uk and we will feed these into our response. Please provide any feedback by 17th May.
Equally please share your response with your local MP. We will be sharing ours with all those on the Select Committee for Education plus others who we know have a deep interest in education and skills.
In the meantime, we will continue to shout about the excellent work you are all doing to support your learners. Please continue to share case studies and stories about your learners' achievements by emailing marketing@openawards.org.uk.
[1] Summary/dfe consultation/March 2019/AOC