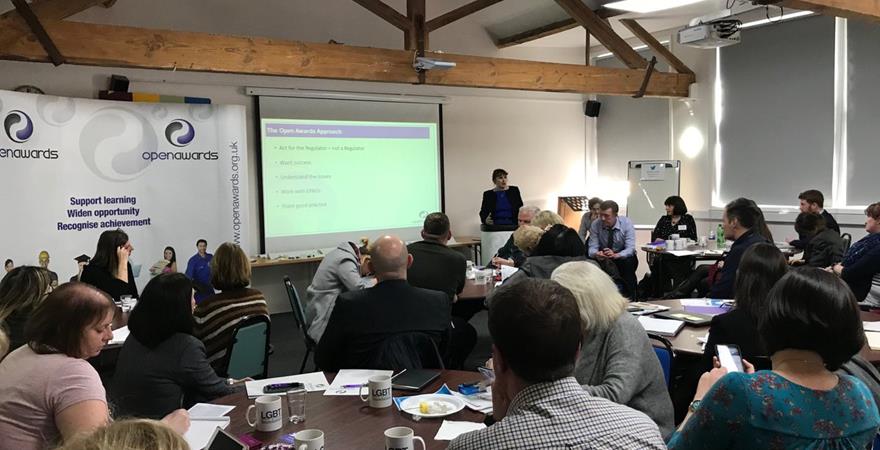 As part of National Apprenticeship Week 2018, Open Awards hosted their annual Open Inspiration event at the LGBT Foundation in Manchester on 7th March. The event was focused on the current and future state of apprenticeships in the UK and featured presentations from some of the country's most influential apprenticeship providers, assessors and agencies.
Presented in front of a full house, those in attendance were treated to the latest news, events and information surrounding the apprenticeship sector. The subjects discussed stemmed from apprenticeship wages to end-point assessment organisations and apprenticeship standards, and reflections on what a post-Brexit UK holds for the entire sector.
The presentations were informative and intriguing and, judging by the passionate delivery and inspirational subject matter, the apprenticeship sector has a challenging, interesting and exciting future ahead.
Key themes that emerged throughout the sessions were the importance of all stakeholders working positively and proactively together to ensure we achieve the best possible outcomes for our learners; the need for ongoing and consistent communication; the positive progress made to date around the apprenticeship reforms; and the work that is still required to ensure apprenticeships are meaningful, accessible and successful for all our learners.
Open Awards CEO Heather Akehurst said of the event:
"We'd like to thank all our speakers who made the event such a success with lots to talk about and give us all pause for reflection. It was good to see everyone chatting and seeking to learn from each other as well as sharing knowledge and experiences. One of the best events that we've held."