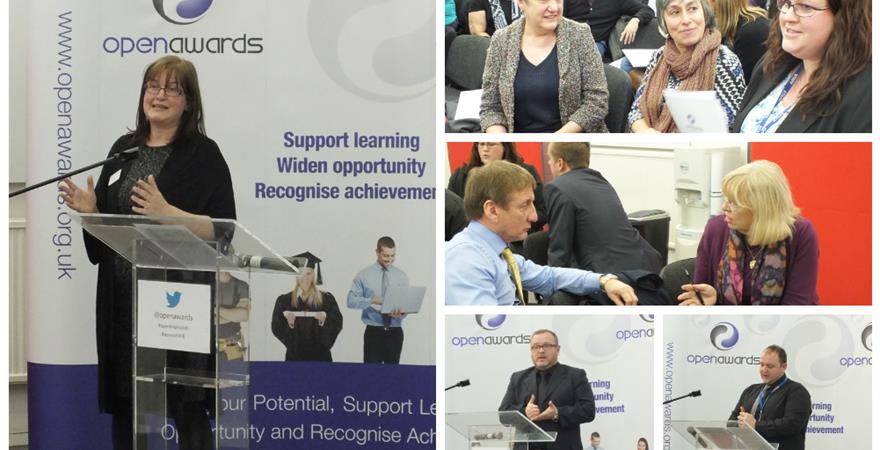 Peter Stacey – Ofsted - 'Deliverable and Achievable'.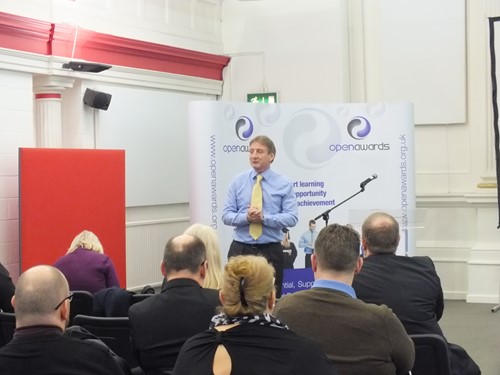 Peter's pragmatic presentation covered all those important aspects of the new Ofsted inspection framework – a topic our providers were keen to understand.
Quick facts
Ofsted are no longer reporting by curriculum areas, but rather by programme types
There is still a two day notification period
There will be no grading of teaching and learning sessions
The inspections will be focusing on the following;Personal Development, Behaviour and Welfare (including employability skills and work ethics), Outcomes for learners, Leadership and Management, Effectiveness of Safeguarding, Teaching, Learning and Assessment
So, with all of this said, where does that leave you, the provider? How can you do justice in evidencing all the hard work of your staff and learners?
Peter's top tips included:
Evidence Improvements: Showing the progression of the learner is vital. Inspectors look for the incremental progression and improvements in a learner.
Tracking data is important: Keeping up-to-date and accurate data on the further progression of all your learners into employment or further learning is vital.
It's not all about the classroom: The individual progression of learner, staff skills and supportive leadership all contribute to the overall inspection.
For more information email:  jo.higgins@qualityforlearningandskills.co.uk
Innovations in Adult Education – Access to Higher Education Diplomas - Julie Mizon
As informative as ever, Open Award's Head of Quality and Standards Julie Mizon gave us an overview of the development and trends in Access to Higher Education. These include:
January start dates
Blended learning styles – including fast track courses
Distance Learning – a pragmatic and increasingly popular mode of delivery.
What trends can we see?
We predict the move towards stronger collaborations with Access to HE delivery with onsite practical experience. Julie highlighted the City Labs Project; a £25 million biomedical hub on the site of Manchester's former Royal Eye Hospital. It provides high quality science courses for Access learners, delivered by dedicated subject specialists and supportive staff. Being the first of its kind, this type of partnership looks promising as it increases Research and Development opportunities and Volunteering opportunities.
To discuss how we can work together to innovate your Access to HE provision, please contact Julie Mizon on Julie.mizon@openawards.org.uk
Blackburne House – Clare Graves and Vicky Browne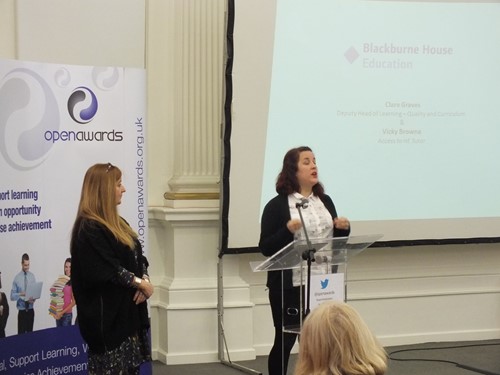 Blackburne House is a unique education centre in Merseyside, which, over the past 30 years has pioneered training, primarily for women, in non-traditional areas of work including ICT, Senior Management and Construction.
Deputy Head of Learning – Quality and Curriculum Clare and one of her Access to HE Tutors Vicky spoke about how the streamlining of Open Awards Access to HE paperwork processes has helped them by lifting the burden of administrative duties, which has allowed them to focus more on their learners. They shared their vision for ensuring accessibility to learning for all learners and showed how Access to HE really can be life changing.
If you'd like to know more about Open Awards Access to HE provisions and how our straight forward processes could help your organisation, email Ben Rockliffe on ben.rockliffe@openawards.org.uk
Access to Higher Education – Structure
The Access to HE Diploma is approved by QAA and the general structure is the same at across the UK. It is:
A level 3 qualification, just like A Levels or BTEC L3
A 60 credit qualification and QAA regulations state that 45 of the 60 credits must be achieved from graded Units containing academic content;
The Units that are studied are worth either 3, 6 or 9 credits and are graded at Pass, Merit or Distinction.
Universities may ask for certain amount of Merit or Distinction Grades for entry to their courses and so it is important to keep track of the Grades received for the units covered.
Regional programme and our pathways
The flexibility for colleges to design Access to HE courses that best suit their learners and their resources comes from our Regional Programme. Although this is not a requirement of the QAA specification we, at Open Awards, believe that it allows providers the freedom to react quickly to changes at centre or HEI level with regards to the programme that they offer.
The Open Awards Regional Access Programme comprises seven Pathways containing modules with related subject content.
Open Awards already has very strong links in offender learning. The team looked at how Access could be used to help to increase the educational offer given to learners in prison.
After a few months of research and discussion we are happy to announce that a successful pilot Access to HE programme was created and is currently running at HYMYOI Aylesbury! There will be a lot more information out about this shortly so stay tuned!
Advanced Learner Loans – Head of Business and Strategy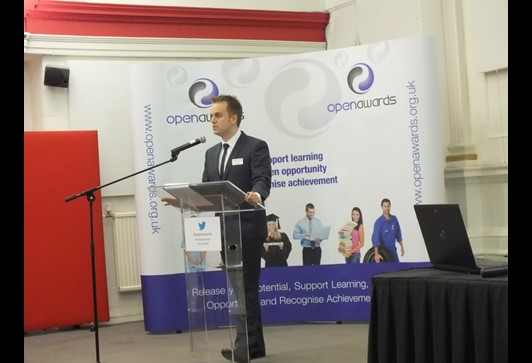 With the announcement of funding updates, most of us sat up a little straighter in our seats to hear how the existing 24+ loans scheme is changing and what that actually means for us and our learners.
Quick Facts:
From 2016-2017 Advanced Learner Loans will be expanded to include those aged between 19-23 and those studying at level 5 and 6.
One for the diaries - applications open in May 2016
There is also a plan to consult on maintenance allowance to support learners undertaking these qualifications.
The learner is the purchaser, not the SFA – making balancing the books easier
Funding is important to all of us. If you are unsure about whether changes to funding may affect you or your learners, email ben.rockliffe@openawards.org.uk for some friendly advice.
GOOD NEWS
One of the attendees asked whether the advanced learner loans will be written off if a learner progresses into Higher Education- well - good news- they will be! The SFE have published the new guidelines and you can find the information here
With the morning session over and sandwiches served, we all reflected on the morning speakers with an overall consensus on the need to overcome the challenges and capitalise on the opportunities facing us in 2016-2017.
Supported Internships – Salford City College and Pure Innovations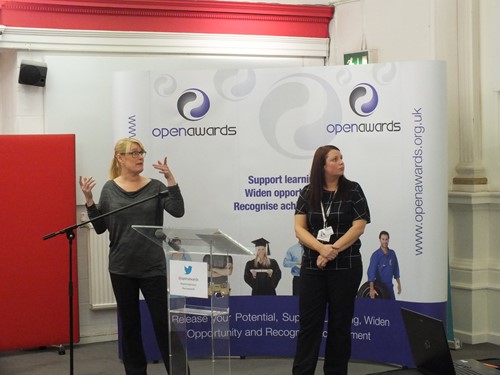 The afternoon session kicked off with case studies from the successful collaboration of Salford City Council, Salford City College and Pure Innovations. The partnership has been successfully delivering a supported internship for 4 years, working with young people with a learning difficulty and/or disability. The presentation highlighted best-practise models, demonstrating the dramatic impact it has had on their learners. Set against the national average of only 7% of people with a learning disability being in paid employment, the Salford supported internship were proud to share their outcomes of 60% of their learners progressing into paid employment by the end of the course.
The programme is enhanced by the use of the Open Awards Certificate in Getting on at Work Entry Level 3 which includes:
Cv Writing, Managing study, approached to learning, planning for progression, interview preparation, dealing with changes, job searching and applications and getting the most out of work.
Their video below highlights just how this, and similar qualifications, has improved the lives of their learners and built their confidence in the workplace. http://www.pureinnovations.co.uk/salford-supported-internship-2014
For more information on supported internships click here
Training 2000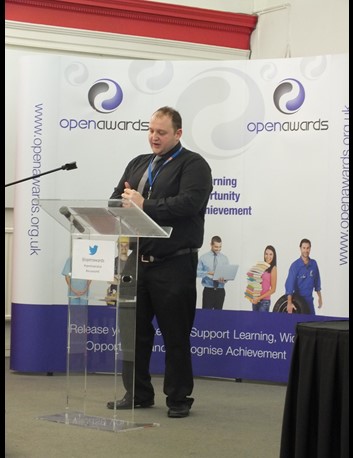 Training 2000 works predominantly with young people who have not had much success in the traditional education routes; those who have been excluded from mainstream schools or who have additional barriers to learning.
T200 use the Open Awards 'Steps to Success' work preparation programme to give their learners the best possible change of gaining meaningful employment. The major benefits of the programme involve:
Setting work related standards such as time keeping and work place behaviour
Providing learners with focused career paths through personalised advice and guidance
Having the flexibility to adapt the curriculum to meet the specific needs of their particular learners
Craig stressed the importance of this type of programme in helping young people make the next step into employment and avoiding the 'revolving door of education'. This programme is of specific value to employers as it;
Ensures the young people are work-ready
Ensures they understand workplace policies and procedures
Have the correct skills for their roles
Have previous work based experience and are motivated to learn and develop themselves in their roles.
For more information on traineeships click here 
Pinehirst – Developing Bespoke Qualifications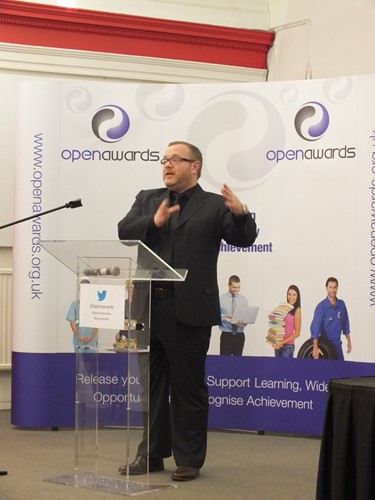 At Open Awards, we pride ourselves on keeping up-to-date on labour market changes as this will dictate the skills needed over the next few years. Director of Education at Pinehirst, Tom Brown, gave us an overview of the new qualification he developed with Open Awards – Level 1 Certificate in Skills for Track and Rail Site Maintenance.
This development was led by the demands of employers and is already showing to support positive progression into employment for Pinehirst learners. Tom shared their vision for providing practical experiences for their learners by working closely with employers and highlighted the benefits of this in engaging learners.
"The Level of support and expertise given by Open Awards has been outstanding. They made a very complicated process seem very simple and stress free. Pinehirst Education are delighted with our new qualifications and the service offered by Open awards."
Tom highlighted the benefits of developing a bespoke qualification for their learners including how it created clear progression routes and increased student recruitment and retention.
If you feel you have a particular case for developing a bespoke qualification, don't hesitate to email nina.hinton@openawards.org.uk.
Pathways to Employment – Open Awards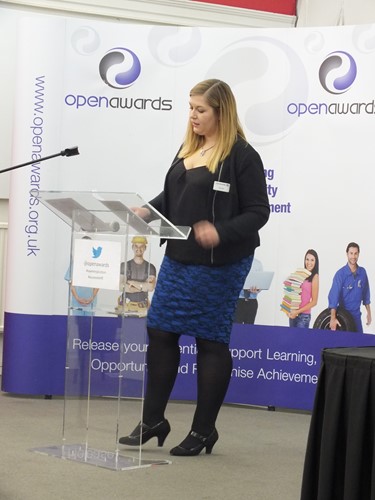 Open Awards Development and Marketing Manager Nina rounded the afternoon off with an overview of the Open Awards Provisions and the work we are doing to help you to create clear pathways into employment for your learners, at all levels. Our mission is to change lives through learning, and we can only do that in partnership with our centres. We pride ourselves on flexible and accessible qualifications and are continuing to review and refine our portfolio to meet the demands of learners, education providers and employers.
'In my previous role, working for an education provider, I had the impression that you always had to accept whatever qualifications the Awarding Body provided. This is what makes Open Awards different – we are actively looking for your input into the creation of valuable and relevant qualifications. You know your learners best. If there is a particular skill/knowledge gap for the progression and development of your learners, let us know. We work every day to change the lives of learners and we can do that most effectively with your input- we really are 'open'' - Nina.
Our new development opportunities include
Entry Level 2 – Level 3 Independent travel training
Level 1 and 2 Touch typing
Level 4 Education and Training
Brand New Service:
Nina also announced the launch of a brand new service. We know that sometimes a formal qualification isn't always the right thing for learners – perhaps a bit of a strange thing for an awarding organisation to say! We want to be able to recognise the excellent training, which is delivering exceptional outcomes for learners. Following a thorough review of the training and learning materials, best practice support, ongoing curriculum support and external quality assurance, we will formally recognise high-quality training and will certificate learners with Open Awards certificates for recognition of their newly acquired skills.
For more information about Open Awards provisions or to talk to one of our team, please call 0151 494 2072.