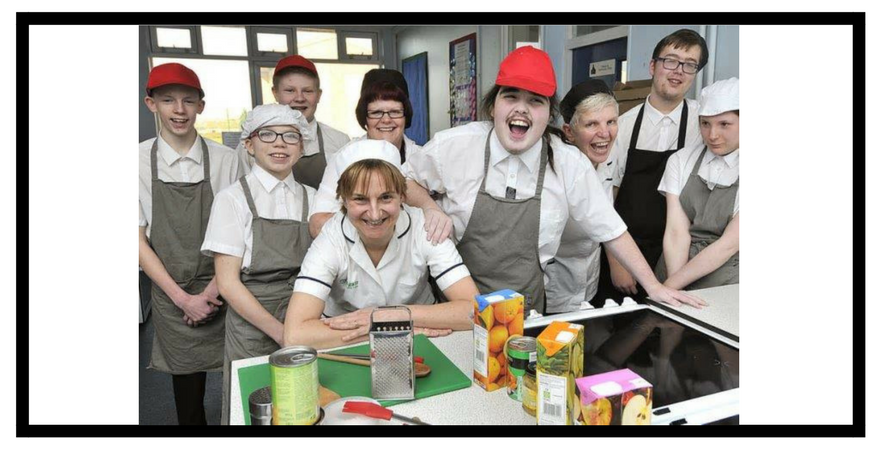 The Place Cafe Filey
The Place Cafe based at Filey Youth Centre was opened in February 2017 and is run by students from Ebor Academy Filey - all have additional learning needs.
Since opening, the café has developed into a friendly self-sufficient community meeting place, serving the local community as well as visitors to Filey, offering delicious savoury home made dishes, cakes and bakes including gluten free options.
The students are all undertaking accredited Open Awards Catering courses, primarily utilising the Entry Level Skills for Further Learning and Employment qualifications, delivered by Hungate Health and Hygiene training which is based in Scarborough.
Work related skills development                                                      
The facility provides the opportunity for learners to experience and develop a wide range of work related skills, including: Food Preparation, Cooking, Customer Service, Food Hygiene and Storage, Independence, Communication, Cash Handling, Teamwork and Following Instructions.
Here is what some of the students have said about it:
'I have proved I can do something by putting my mind to it'
'If you get an opportunity to do something like this Go For It'
'You have good fun and have good conversations and a laugh with visitors'                                                              
'It has given me more opportunities and I have enjoyed being out of school'              
'My confidence has grown so much. I am happy to go shopping in Filey'
The Cafe provides the opportunity for the students to develop confidence, self-belief and a positive attitude towards work, to enable them to find employment beyond school life.
Peter Steel, Open Awards Business Development Consultant, has observed the work completed by the Ebor Students and the individualised support provided by Hungate Health and Hygiene, ensuring that learners maximise the opportunities the Café provides for learners to achieve their full potential.
Hungate Health & Hygiene continues to grow and the varied activities they undertake and the care and attention to detail in preparing and delivering programmes / qualifications to meet the individual needs of each learner, is first class.
The work completed supports the transition into work, further learning and / or independence                                                          
Rachel Brickman (Course Tutor / Director Hungate Health & Hygiene)
-
For further information on Skills for Further Learning and Employment qualifications at Entry Level 1 to Level 2, please contact your dedicated Business Development Consultant or call Open Awards on 0151 494 2072
To view all our qualifications, please visit www.openawards.org.uk