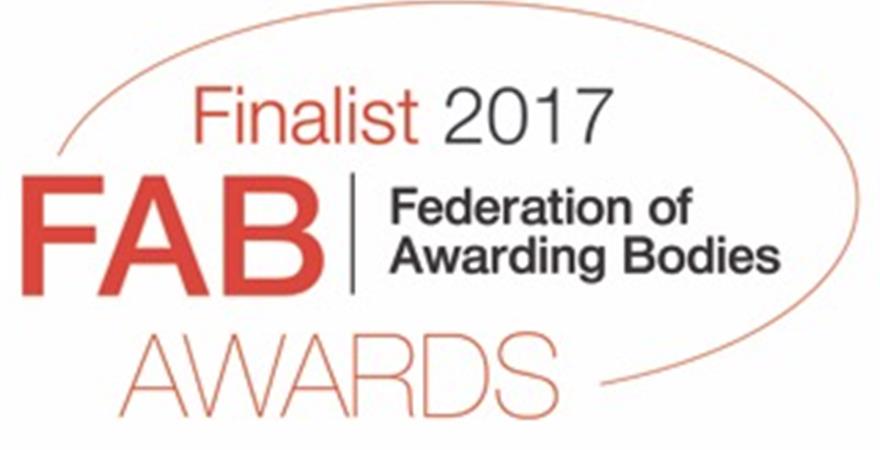 Open Awards are delighted to announce that we have been shortlisted in 2 categories for the 2017 Federation of Awarding Bodies Awards. 
Now in its third year, the Awards recognise the contributions made by awarding organisations and their employees to education and skills in the UK over the past year.

Stephen Wright, FAB Chief Executive, says "we received more entries to the Awards than ever before and the standard was exceptionally high. We look forward to announcing the winners and to celebrating the successes within the industry at the Awards dinner on 19 October. "
Individual of the Year - Jenny Newton (Functional Skills Awarding Consortium)
Jenny has played an integral part in the Awarding Consortium over the past 12 months. The Awarding Consortium is a collaboration between 5 leading Awarding Organisations and an innovative assessment system provider who have come together to offer Functional Skills qualifications in English, Mathematics and ICT at Level 1 and 2. 
Jenny has supported the Consortium throughout the development and implementation of the qualifications, playing a key role in supporting our centres with the transition. She has shown a sincere commitment to the project, going above and beyond her coordination role to ensure the best service for the consortium, our centres and ultimately our learners. Jenny is diligent, tenacious and strives for excellence in everything she does and this has led to the excellent outcomes the project has achieved this year. 
Qualification of the Year - Level 2 Award in Skills for Teaching Independent Travel
This qualification has been designed to equip trainers with skills required to teach young people (YP) and adults with learning difficulties and/or disability independent travel effectively and safely. Learning to travel independently can be the first step towards adulthood for YP and we are delighted to have developed qualifications to support this agenda and help ensure safety, confidence and development of our learners.
This qualification aligns with the Preparing for Adulthood Agenda and independent travel is often an outcome on a YP's education, health and care plan. ITT programmes are delivered in schools, colleges, LAs and third-sector. ITT can be life-changing as it promotes independence/choice for people with learning difficulties and provides increased opportunities as learners progress through education/employment. However, it is not without risks. By introducing regulated qualifications for this growing sector, we can ensure trainers are equipped with knowledge and skills required to ensure safety of learners both during training and as they continue to travel independently throughout adulthood. 
The full list of finalists can be found on the FAB website. 
FAB 2017 is an ideal opportunity to get together with colleagues to hear the latest from industry experts, find out what the future holds and have valuable time away from the office to take stock and discuss the issues and implications with peers over dinner. Registrations are now open at www.awarding.org.uk/conference-awards.