Open Awards is pleased to announce we are now working with Economic Modelling Specialists, Int. (EMSI) to access their up-to-date labour market data so we can create the qualifications that our centres and the British economy really need. This article explains what EMSI does and how it will support the work of Open Awards and those who work with us.
EMSI provide us with access to their Analyst data tool which is created from a collection of Government and other sources, for example:
ABI – Annual Business Inquiry
APS – Annual Population Survey
ASHE – Annual Survey of Hours and Earnings
BRES – Business Register and Employment Survey
DEFRA – Department for Environment, Food and Rural Affairs
LFS – Labour Force Survey
WF – Working Futures
WJS – Workforce Jobs Series
Using this data we are able to create projected employment and demographic trends for sectors and specific job roles. This can be done on a national, regional or local authority level. The data is also able to tell us the types of skills that will be in demand for particular occupational areas.
This is extremely important for us as an awarding organisation. It will enable us to ensure that we are creating valid qualifications where there is a clear demand for skills.
It will also help us provide professional business planning services to the centres we work with, helping them identify what the skills gaps are in their area and working with them to create qualifications and courses that respond to this. We will be able to supply reports for your local area(s) that project:
The sectors in which the number of jobs is likely to grow
The sectors in the number of jobs is likely to decrease
The types of skills employers in the growth sectors will be looking for
The roles to which employees from declining sectors might most easily transfer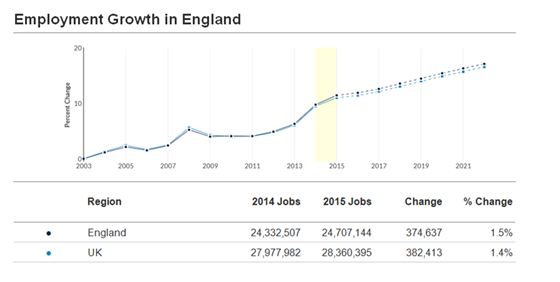 The data shows us not only that the number of jobs in England is expected to grow by 1.5% over the next 6 years, but also where these jobs are likely to be. With this data at our finger tips we are now more ready than ever to work with centres to provide education and training to give people the skills and knowledge they need to find and sustain employment.
If you would like to talk to a member of the team about how we can use our data modelling to support your business planning then please get in touch with nina.hinton@openawards.org.uk