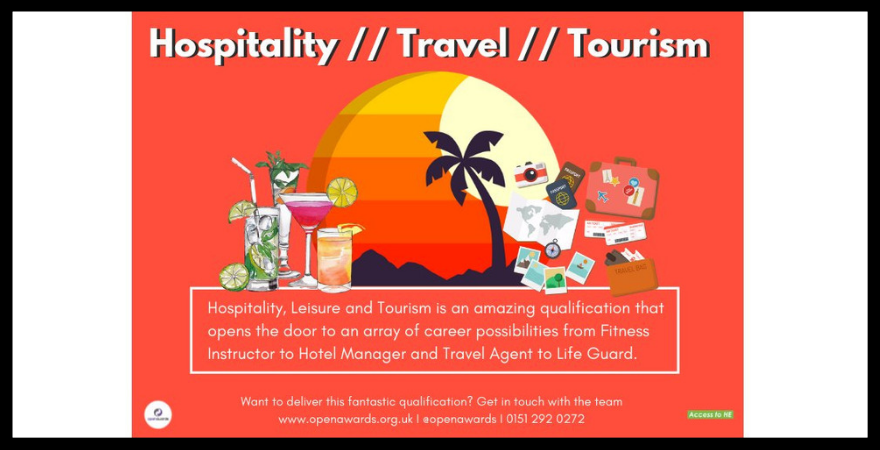 Here at Open Awards, we are always looking for new ways to help learners get ahead and unleash their potential. In 2019 we will be adding to our pathways providing learners with more opportunities to find a career once their studying is complete. Our first new pathway is 'Hospitality, Travel and Tourism'
Hospitality, Travel and Tourism is an amazing qualification that opens the door to an array of career possibilities from Fitness Instructor to Hotel Manager and Travel Agent to Life Guard.
The sector has plenty to offer providing many employment and career options. The range of work environments is vast with options of office, front of house and customer service roles. Below is a list of just some of the opportunities available;
Hotel
Restaurant and catering
Leisure and sports
Travel agency  
Tour operators
Air travel
Rail travel
Leisure and travel service
Leisure and theme park
There is also huge crossover potential with many other sectors such as;
Media
Education
Events
Healthcare
Business
Management
The job opportunities within the sector are wide heightening the chance of employment upon qualification. The UK tourism sector has continued to grow steadily year upon year.  Since 2010 tourism has been the fastest growing sector in the UK in employment terms. Britain is forecast to have a tourism industry worth over £257 billion by 2025. In VisitBritain's 2017 Snapshot report showed that 39.2 million people visited the UK in 2017, bringing in a record breaking £24.5 billion.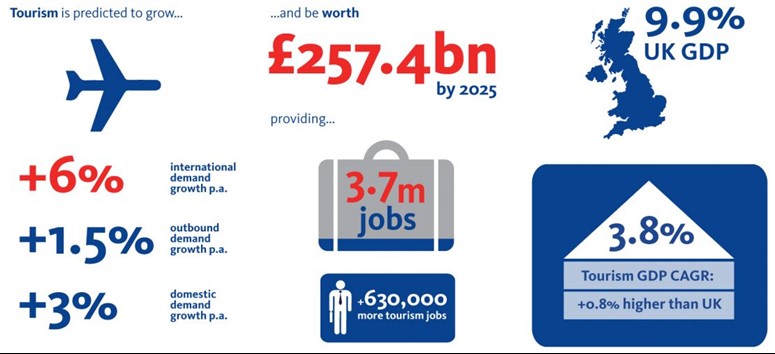 There are, however some uncertain times ahead as Brexit looms. The outcome of leaving the EU is anyone's guess as the challenges all sectors will face are unprecedented. The good news is, according to EMSI that there is no sign the UK tourism sector slowing down as the graph below shows the expected regional job growth by 2025.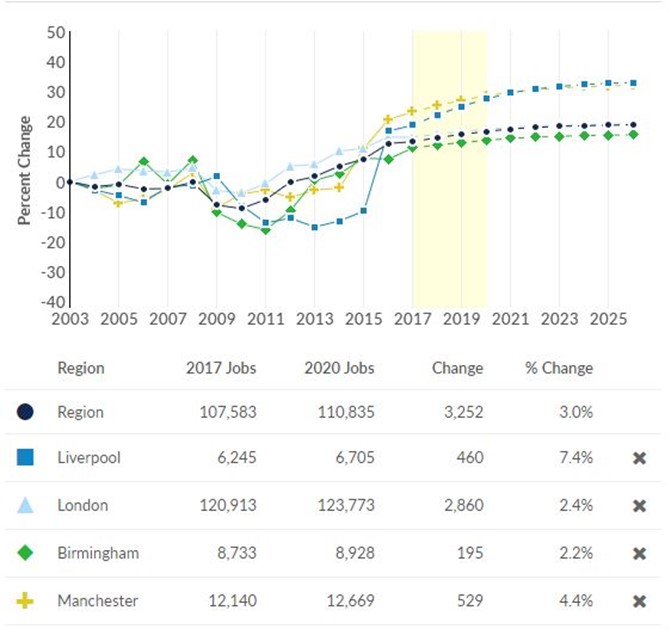 One sector that benefits hugely under the UK tourism boom period is the hospitality industry. Bars, restaurants and hotels seem to be opening on a weekly basis due to the rapidly expanding visitor economy brought into the UK by the millions of visitors every year. The People 1st Skills and workforce profile for hospitality and tourism shows 'between 2011-2015 the hospitality and tourism workforce increased by 13% to 2.05m' and 'projections suggest that the sector will need to recruit an additional 1.3million more staff by the end of 2024.'
The future within the hospitality, travel and tourism sector looks bright and the wide scope of areas you can study in heightening chances of finding employment after qualification. Graduates of the Sports, Leisure and Tourism Pathway can expect;
Pros
Flexibility – Due to the nature of sector and unconventional hours there is a lot of room for flexible working hours.
Fast-Track Progression – Depending on specific sector. Show plenty of passion, initiative and work hard you will be rewarded with pay raises and promotions.
Travel – There will opportunities to travel, locally, nationally and even internationally in many of the roles within the sector.
Cons
Long and Unsociable Hours – Many jobs require you to work early mornings, late nights, weekends and public holidays.
Low Salary – You will most likely start on the national minimum wage.
Brexit uncertainty (applies to everything though)
If a career in Hospitality, Travel and Tourism is for you and you would like to know more about the qualification, where runs it and anything else we can help with, then please get in touch with us at ahed@openawards.org.uk, call us on 0151 494 2072 or visit www.openawards.org.uk