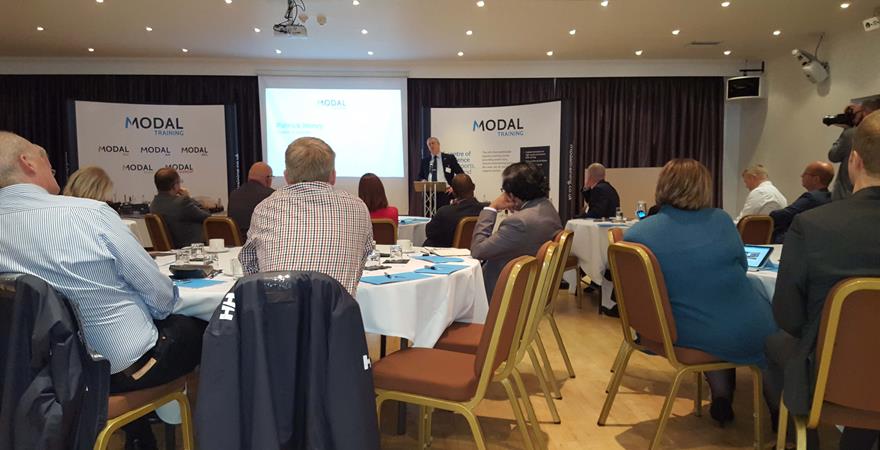 Business Relationship Manger Peter Steel was pleased to represent Open Awards today at the formal launch of Grimsby Institutes Modal Training Limited. Held at the Humber Royal Hotel in Grimsby, the launch event brought together delegates from industry, training and commerce.
Modal Training Limited will be a new £7million dedicated training centre for the Ports, Energy and Logistics Sectors and is a project jointly funded by the Grimsby Institute and the Humber Local Enterprise Partnership (LEP).
The new centre will be located in a 5,696 m2 fit for purpose designed facility on Kings Road in Immingham.
Attendees at the launch heard from Kishor Tailor (Chief Executive, Humber LEP) who gave a rationale for development of the partnership and an outline of the main LEP tasks/strands that are the priorities for the successful development of the region, the sector and it's influence and contribution to the UK economy.
Ensuring the infrastructure that is in place will be supported by high quality training and relevant and responsive qualifications are vital components in preparing the region for future business development and securing growth and investment.
Having employees "work ready" is an essential element in being able to respond effectively when preparing to undertake new initiatives and/or business expansion  
Nigel Carlton (Chief Executive Fabricom ENGIE) and Mike Sellers (Port Manager, ABP) also highlighted the opportunities Modal Training will offer to support current and future employees within the Logistics Sector.
Patrick Henry (Director of Training) highlighted the opportunities and described the facilities that would support Air, Sea, Road, Rail and Support Services – all within a single centre.
The capital investment provides a wide range of resources where learners can develop, enhance or extend competencies in "Realistic Simulated Environments".
The suite of Open Awards Freight Forwarding qualifications at Levels 1 – 4, will be included in what will be an extensive curriculum offer.
Open Awards are also in discussion with both Grimsby Institute and South Essex College, regarding the opportunity to generate a Trailblazer Group to focus on creating new Freight Forwarding Apprenticeship Standards.
Colleges or Employers wishing to be involved or contribute to this exciting proposal should contact Peter Steel in the first instance.
For further information regarding our Freight Forwarding, Maritime or full range of qualifications, view our Qualification Search, or speak to your Business Relationship Manager by calling 0151 494 2072.