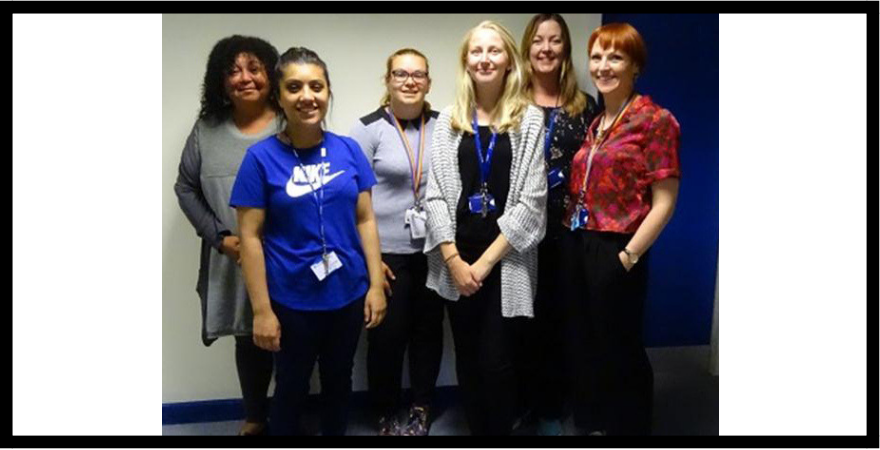 Situated in Sale, Manor College offers a personalised post 16 provision for learners with special needs. The college shares a small area of the Manor Academy school campus and at first glance looks like any other average school department. After a couple of hours with staff and students that were brimming with ideas and confidence it was clear that the college could never be described as average.
Co-ordinated by energetic Manager Kirsteen McGarva, a tight knit team (consisting of Sarah Garrett, Maria Chaudhry, Rebecca Rothwell, Catherine Allen and Bev Davidson) works to help students reach their full potential and prepare them for adult life. Utilising a range of Open Awards qualifications each learner follows a bespoke curriculum suiting their individual needs and aspirations. In addition to this learners are encouraged to get involved with volunteering in the local community, take part in performing arts productions (rehearsals for School of Rock were well underway when I visited) and undertake supported work placements within Manchester Metropolitan University (part of the 'Bridging the Gap' programme).  
How do the college team keep track of all this activity I hear you ask? Progress is tracked continuously using the innovative Classroom Monitor application which allows the team to monitor and track progress for each individual learner. Each Open Awards unit is downloaded to the system before assessment activities and evidence are added – tutors often take video clips of the activity and upload them instantly. In turn learners receive direct feedback, have a visual record of their progress and better understand their individual targets. Another benefit to the busy team is a reduction in paperwork which allows teaching staff to do what they do best – teach.
The team are conscious that learners often require extra support during the transition from school to a more adult college environment. Behaviour specialist Bev Davidson explained how the team now take a more pro-active approach to managing behaviour, placing a specific focus on learners concerns and needs at the start of their time at the college which in turn has fostered a culture of openness and prevents any issues arising (pastoral or behavioural). Working at Manor College has inspired non –teaching team member Bev so much that she is about to embark on a PGCE programme in September.
Perhaps the best reward for the team's hard work comes from the learners themselves, who are confident, friendly and engaging – qualities which will help them to succeed when their time at Manor College ends.
Many thanks to the team at Manor College.
If you have a story you would like to share please contact marketing@openawards.org.uk
*The team (from left to right) Bev Davidson, Maria Chaudhry, Sarah Garrett, Catherine Allen, Rebecca Rothwell, & Kirsteen McGarva