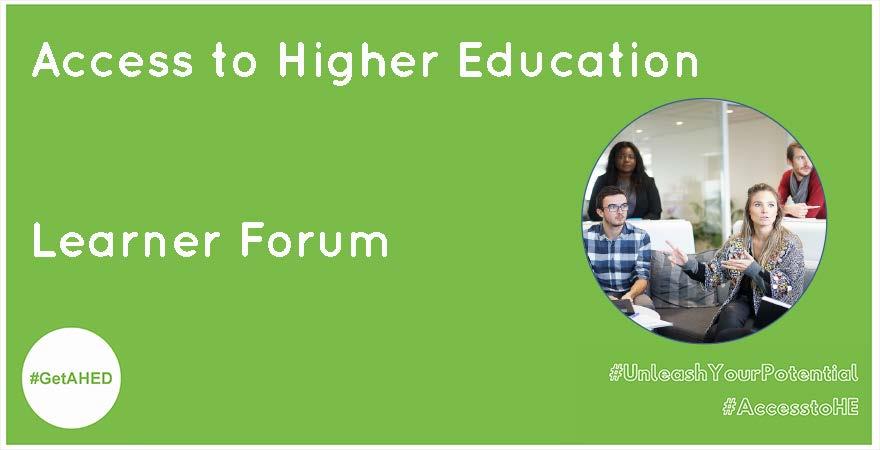 Access to HE Learner Forum – 3rd July 2018
Salford City College
Our July 2018 Learner Forum took place at Salford City College on 3rd July 2018, giving current Access learners to chance to speak directly to us about their journey through the Access to HE Diploma, into higher education and beyond.
Lisa Colleen Foulds and Funmilayo Hundeyin, who have just finished studying on the Access to HE Diploma at Salford City College, shared their experiences of Access to HE .
Like many learners returning to education they worried about acclimatising to demands of the course but the support of the college and their tutors made the course achievable.
They found the use of Canvas for out of classroom study and research very useful. The tasks that they were given on Padlet Wall and the discussion wall very useful to help them develop their research and discussion skills.
They suggested that developmental units should be done at the beginning of the course and merged with academic units as they would have found the learning on these units useful throughout the rest of the course and they would help to re-introduce them to study.
Some developmental units are useful for the university interview which is another reason to have them at the beginning of the course.
They found that there was a need to ensure that learners understood that assignments needed to not only satisfy the brief but also captured the requirements of the assessment criteria. Some learners didn't think to do this at first.
As adult learners they sometimes felt excluded from the community activities which were chiefly aimed towards the younger learners. They are expecting a similar, but bigger, kind of atmosphere at university too.
Moving forward Funmilayo and Lisa are both looking forward to begin university as undergraduate students and everyone at Open Awards wishes them all luck in the world and we can't wait to hear of their upcoming achievements.
Information like this is vital in the development of Access to HE Diplomas. The more learner feedback we get the better and brighter the future of Access o HE will be.  Please stay tuned for future forums, fairs and events in the Access to HE world to help us help you.