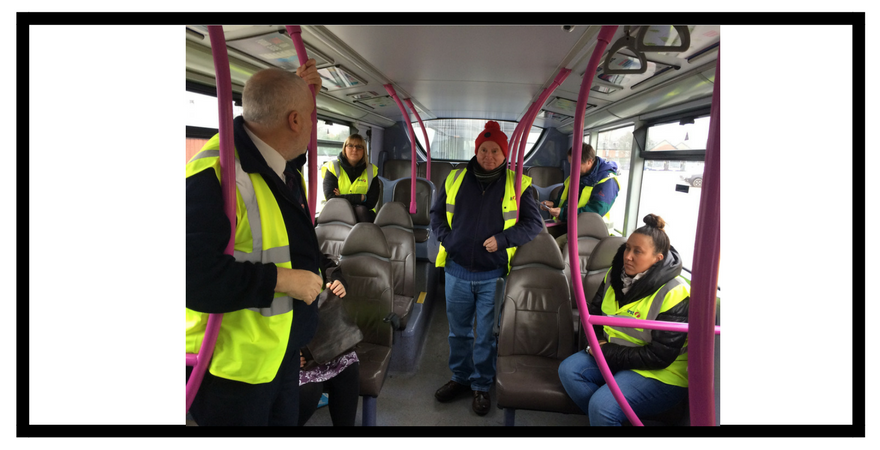 On Friday 27th January, Kirsty Gaunt from First Bus invited the Greater Manchester Travel Training group into the bus depot in Bolton to discuss their work in travel training and to learn more about the day-in-the-life- of a bus driver.
Travel Training is specifically for young people or adults who may have disabilities but who want to acquire the skills and knowledge for safe and independent travel on pedestrian routes or whilst using public transport.
After brief introductions, the group began discussing some of the challenges faced by their students ranging from physical disabilities and how that can make it difficult to board buses to hidden disabilities which might make communication more challenging.
Keith Fieldhouse, Driving Instructor for First Bus, joined the discussion to give a bit more information around the rules governing bus timings, route planning and journey stoppage time.
The group were positive about being able to work together to raise awareness of the difficulties faced by people learning to travel independently and the effects this can have on their progress and confidence.
They then went on to share their experiences of working with young people with a disability and/or learning difficulty and ideas for providing the best support. For example, Julie Lucas, a travel trainer working predominantly with individuals with a visual impairment, noted that her students have found carrying a card which made the driver aware of their individual support needs helped immensely and that there had been a positive response from drivers with one particular driver helping the young person to scan his ticket.
Julie noted: 'As a Mobility Officer with Salford's Team for the Visually Impaired my role involves equipping the children and young people with the skills and techniques to become as independent as possible in all aspects of their lives, at home, in school and in the wider community. Bus skills are regarded as advanced skills for the visually impaired traveller and as such, much time is invested in teaching the wide range of strategies and techniques needed including building up confidence and competence in this valuable area of independent travel'.
Before the morning was over, the group had the opportunity to look around the buses and talked through a day in the life of a driver, from initial checking of the bus before it leaves the depot, to sitting in the driver's seat and experiencing how much they can see and, importantly, how much they can't, from their driving seat. The group agreed that the newer buses were a lot more accessible and that signage to promote the priority spacing for wheelchairs would be helpful.
The morning ended with Kirsty suggesting a coffee morning to bring both trainers and drivers together to discuss how they can come together to work more collaboratively on this agenda.
She commented: "We were thrilled with GMTTF visiting the depot and being able to share working life from a bus driver's perspective but to also share best practice with each other to hopefully improve the experience Travel Trainers and their students have when using our services."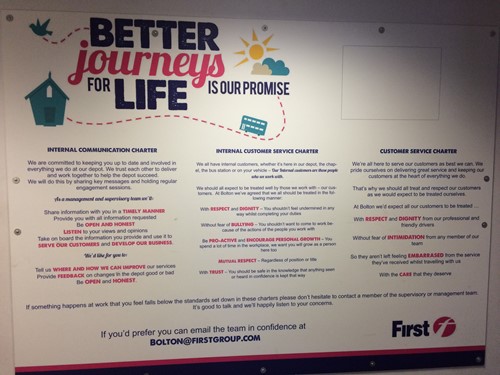 At Open Awards, we have developed a suite of qualifications that training providers are using to train their young people as well as their staff in  independent travel training. For more information, please click here.
If you would like more information about Independent Travel Training, feel free to contact our team on info@openawards.org.uk or call 0151 494 2072.