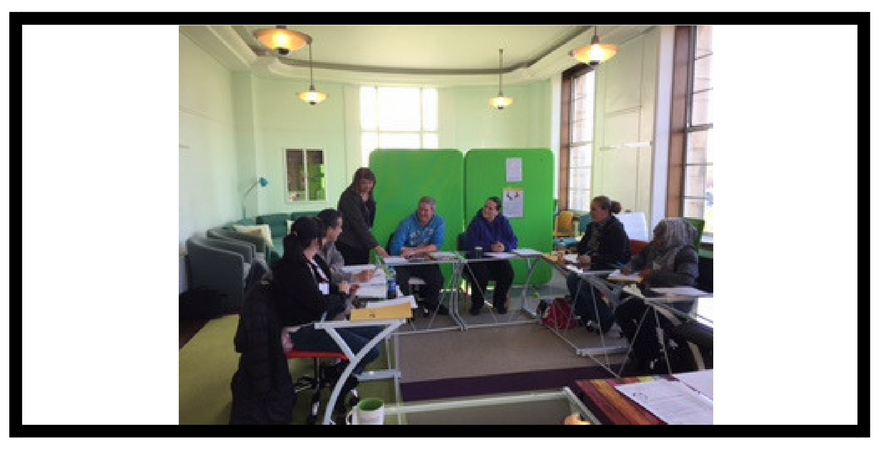 Working in the Care Sector today requires skills, knowledge and enthusiasm so that's why when Bury Adult Learning Services ran the 'Open Awards Level 1 Award in Further Learning and Employment' on a course centred around Childcare and/or Care during the autumn term of 2016 tutor Liz Jones provided an intense curriculum which included enrichment from sector professionals who provided a wealth of valuable information.  
This award comprises 9 credits and the college chose three 3 credit units in consultation with stakeholders for the content of the course. They were:
The Managers and staff from Persona Care Day Centre and Pumpkin Patch Nursery, welcomed learners for visits and were guest speakers on the course. Lisa Beamer and Ruth Holden, from Persona, talked about their commitment to the adults in their care.  They actively demonstrated the dignity, respect, compassion and concern involved.  Learners were enthused by their input and have taken up their offer to visit the Centre and also have been interviewed for roles and/or volunteers.
Laura Roscoe and Chantelle Fishburn of Pumpkin Patch Nursery motivated learners with their bright approachable nature making it easy to understand why children would thrive in their care. They discussed the nature of their work in detail including interaction with children, families and schools for transitions.  One learner posed the question " is there any child that wouldn't be suitable to attend" to which the response was " we are an all-inclusive nursery and if we need to get support to make sure a child can attend then we will"  fully demonstrating their commitment to Equality, Diversity and Inclusion.   Learners have been invited to call in and look around the nursery setting.
Learners' benefited from professional and honest presentations from the employers, who provided guidance on the long hours, strict safeguarding and compliance required within the sector. Learners commented that they were inspired by the amount of job satisfaction expressed and this, in turn, helped them make important career decisions.
Bury Adult Learning Service would like to thank all the guest speakers for taking time out from their busy working day to attend our courses and wish all the learners every success in their chosen career.  
There will be two Level 1 courses running in the spring term for 'Customer Service' and 'Hospitality & Catering' and in the summer term Level 1 Childcare and Care, see the course guide for more information.                                             
Karen Cargill Curriculum Quality Leader
The Skills for Further Learning and Employment qualifications are extremely flexible qualifications and can be built around the specific needs of your employers or stakeholders.
If you would like more information on how Open Awards can help your learners achieve their potential contact us on 0151 494 2072 or info@openawards.org.uk.