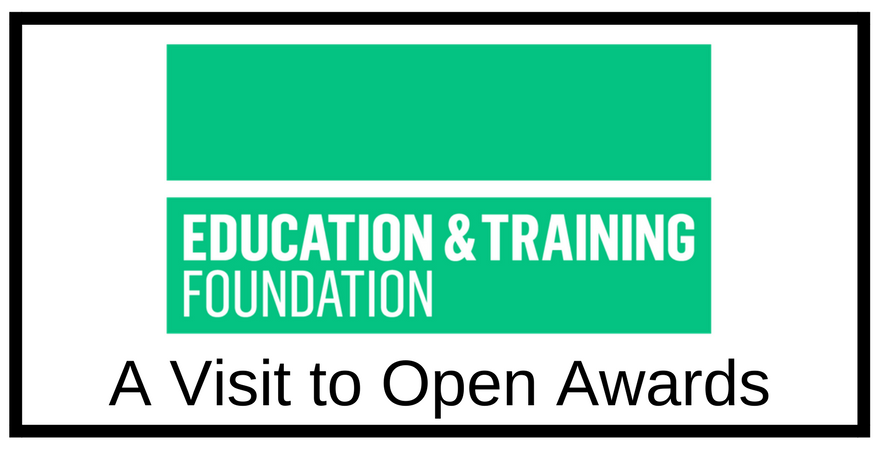 On Thursday 19th January, Open Awards hosted a visit from the Education and Training Foundation (ETF). Sarah Gifford and Teresa Carroll came along to our offices as part of an unrestricted invitation from Open Awards to colleagues across the education sector to come along and find out more about the work of awarding organisations. This article provides a little bit of background about what the ETF does and gives an overview of Sarah and Teresa's day.
The ETF is a sector-owner national support body for the further education (FE) and training sector. It works with teachers, trainers, leaders and employers to help them deliver excellent further and vocational education and training. Much of their work is currently funded by the government and many of their stakeholders are our customers. As such we thought we would get together to find out more about each other's work.
Sarah is ETF's Programme Co-ordinator for Partnerships, Special and International Projects, while Teresa is the Programme Coordinator for Offender Learning.
In the morning, Sarah and Teresa participated in our Safer Custody qualification focus group. Along with offender learning professionals they reviewed draft content for this new qualification to help us ensure it meets learner needs. Teresa was also able to let delegates know about all the support the ETF has available for Offender Learning practitioners, which you can access on the ETF's Excellence Gateway.
In the afternoon they met with staff from across Open Awards to talk about areas of mutual interest such as:
Challenges facing the sector
Qualification design and development
Supporting centres
Sharing great practice across the sector
Innovation
"Quality improvement in teaching and learning is at the heart of what the ETF does; it was great to see the same values in Open Awards. Prison Education can truly change lives and speed up rehabilitation and we were delighted to take part in a qualification development focus group in this area. Thank you to Open Awards for the invitation." Teresa Carroll & Sarah Gifford
If you would like to visit Open Awards to find out more about our work or discuss areas of cooperation then get in contact with us at info@openawards.org.uk or 0151 494 2072.