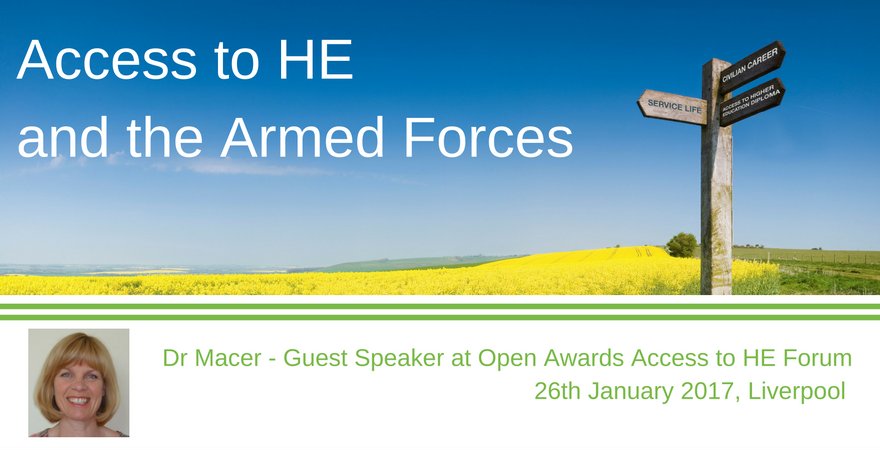 Open Awards is delighted to announce that Dr Mel Macer, Research Fellow at Bath Spa University's Institute for Education, will be coming to the next Open Awards Access to HE Forum on the 26th January to present her research into Access to HE and the armed forces and discuss her findings. You can book your place now here.
Dr Macer's findings released in a report this November suggest that Access to Higher Education for Service leavers and their families need to be improved to ensure they have the best possible chance of establishing successful civilian careers.
Whilst the majority of Service leavers return successfully into civilian life without too many challenges, there are some who need support to enable them to achieve fulfilling careers within the civilian sector.  The Access to Higher Education Diploma is a well-established course, generally delivered locally through Further Education Institutions and provides a non-traditional route into Higher Education. Helping Service Leavers, ex-Service personnel and their spouses to engage with it, supports the whole family's transition from their Service to civilian life.
The report identifies a number of opportunities to improve the journey to and through Access courses for students, particularly for those from the lower ranks of the Army and for Service spouses from all three Armed Service backgrounds.
Among its findings, the report highlights that:
Improvements are needed to the quality and provision of Information, Advice and Guidance relating to Access to Higher Education Diplomas to the general population, not just those connected with the Armed Services;
An increase in take-up of Access to Higher Education Diplomas by those who have Served in the Armed Forces is more about the provision of aspirational, informed Career Information Advice and Guidance, than about the structures within which it is delivered; and
Provision of a bespoke package of resettlement support for Service spouses would help them into fulfilling civilian careers, it would improve their take-up of Access to Higher Education Diplomas and would act as an acknowledgement of the career sacrifices that many make whilst supporting the military careers of their partners.
The full report can be downloaded here.
Dr Macer says: "I hope this report will raise awareness about the opportunity that Access to Higher Education Diplomas offer those with a Service background, particularly for Service Leavers from the lower ranks of the Army and for Service spouses from across the three Services and that the recommendations it contains will serve to highlight how their journeys can be better supported, for the benefit of both individuals and their families." 
Ronnie Allen, Head of Career Recovery at Help for Heroes, said: "At Help for Heroes, we are committed to providing the very best support for life to those who have been affected by their military service. Leaving the military as a result of injury or illness can be especially difficult. There are a number of unique and daunting challenges facing our wounded, injured and sick Armed Forces community as they attempt to forge a new life for themselves as a civilian. Often, they find themselves without relevant qualifications for their chosen career outside of the military and that is why access to Higher Education for service leavers needs to be as smooth as possible. We are delighted that the report identifies opportunities to improve the Higher Education journey for service leavers and their spouses."