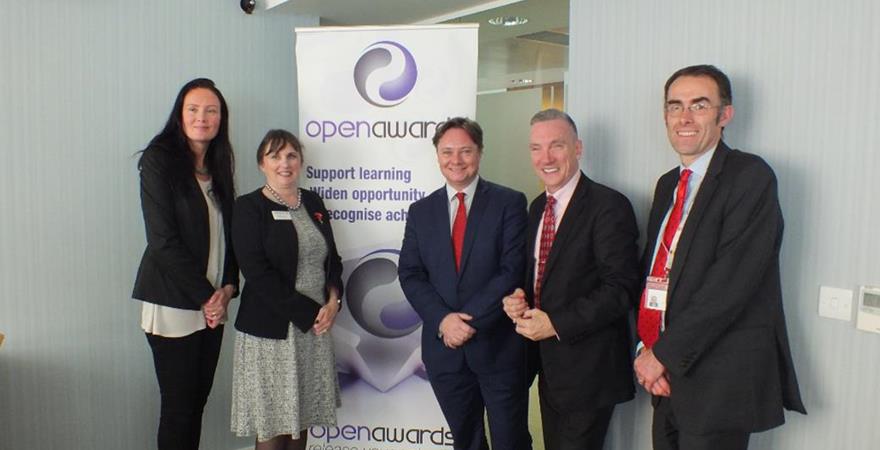 On 22nd October 2015, Open Awards hosted a Business Skills Event at Brabners LLP in Exchange Square. The event was opened by Brabner's chairman Stephen Burrows and chaired by Open Awards Chief Executive, Heather Akehurst.
With an inspirational line up of speakers, Iain Wright Member of Parliament for Hartlepool and Chair of Business Innovation & Skills Select Committee; Rob Tabb, Economic and Partnership Manager, Liverpool City Region Employment and Skills Board; Gary Millar, Former Lord Mayor of Liverpool and Naomi Timperley, Director 4Hub, the event was a unique opportunity for delegates to explore the priorities for skills development.
Open Awards, as an awarding organisation, believe that we play a key role in supporting education providers and businesses to focus on the skills needed for employment.
This event was designed to challenge it's delegates to think about existing jobs that will disappear and the new jobs that will be created in this ever-changing labour market. Trying to imagine how this will materialise is challenge enough, but our real challenge is to prepare learners with the life skills they need to take on these new roles and flourish.
Iain Wright MP was first on the agenda and focused on his vision for the UK and his desire to see, by 2020, a workforce that is highly skilled and motivated. Strongly believing that skills are the 'passport to success' for individuals, Iain Wright shared his views on a skills mis-match between what is required for our economy and what is being provided for learners. Both Iain Wright and Naomi Timperley agreed on a need to move away from the current distinction between vocational and academic and focus more on 'skills'. Gary Millar drew attention to the challenges facing businesses in Liverpool and the need to do more with less - leading to a need for soft, or life, skills in individuals as well as technical qualifications. It is these life skills that will enable our young people to flourish in future roles.
Rob Tabb encouraged a continued focus on long-term unemployed and the need to continue to support those people that need help to get into work. He also highlighted general priorities for skills development in the Liverpool region including:
Customer Service

Science, Technology and Maths

Logistics

Digital Skills

Project Management

Leadership and Management

Employability
Another key theme throughout the morning was the need for a strong focus on 'entrepreneurship'. Iain Wright and Gary Millar emphasised that, broadly speaking, employers want 'self-starters' with fresh ideas and strong motivation - not necessarily technical ability as this can be taught. The ability to work in a team, communicate effectively, solve problems and use initiative were listed as amongst the most sought after qualities by employers.
Looking at what this means for young people in education, Gary Millar highlighted the need for the right leadership and mentorship for young people stating that 'children need to be inspired from day one'. Naomi Timperley called for career skills to be incorporated in every part of the curriculum and for soft skills to run through the' vein of all learning'.
Communication and cooperation were recurring themes throughout the event; the importance of education and business professionals working together to shape an effective curriculum that will give our young people the best opportunities to progress into sustainable and meaningful employment. There was also a final plea from Naomi Timperley to delegates to give young people the confidence that they have a voice that can influence change and to ensure that when they do speak out, we listen and we act.
The event was closed by Heather Akehurst who thanked all the speakers for their inspirational talks and to request that individuals continue to engage with Open Awards around the skills agenda. In particular, Open Awards have been asked to feed into Michael Gove's review of offender learning and requested all and any input from delegates.
If you would like to work with Open Awards on the skills agenda or for information on future events, please get in touch info@openawards.org.uk.