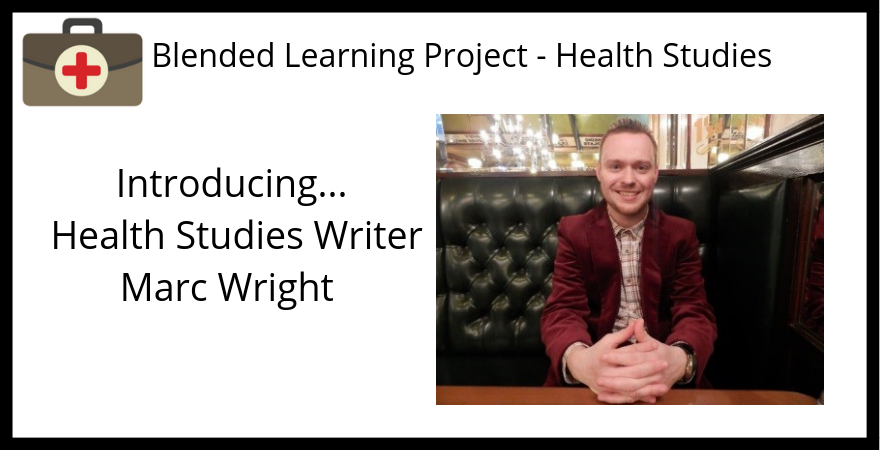 We are delighted to announce the release of our Health Studies Blended Learning Packages! 
| | |
| --- | --- |
| Access to Health Care in Modern Britain | GA33HEA05 |
| Delivery of Health Care in the UK | GA33HEA02 |
| Ethical Issues in Health | GA33HEA01 |
| Gender and Health Care Roles in Modern Britain | GA33HEA04 |
| Health Promotion | GA33HEA06 |
| Social Roles in the Caring Professions | GA33HEA07 |
The content for the units has been written by Marc Wright, who works at the Trafford College Group.  We thought you might like to know more about him, so here is Marc, in his own words
"Hi there, my name is Marc Wright and I have taught on Access to HE Programmes for the last six years.  I have taught Sociology, Film Media & Culture, Health & Education Studies, and was awarded the Principals Award for Excellence in 2016 at Stockport College in this capacity.  I have a 1st class BA (Hons) Sociology degree, and following my teacher training I became a fully qualified SENDCO in 2017.  I am currently working as the HE Disability and Support Officer in my current role for the Trafford College Group alongside my teaching."
We asked Marc how he found writing content for the units and he replied,
"I have really enjoyed sharing my knowledge - writing for the small screen, it has allowed me to embrace my creative side.  It has made me reflect on my own learner journey over the years and appreciate the wonderful tutors I have had that have influenced me."
Our Blended Learning Packages have been made possible through the Department for Education's Flexible Learning Fund. Throughout the coming months you will hear more about the units that have been developed and when they are ready for learners and tutors to use. 
If you would like to learn more about our Blended Learning Packages visit our website by clicking here, or speak with Project Manager Julie Goodwin on 07904 654 066 or julieg@openawards.org.uk