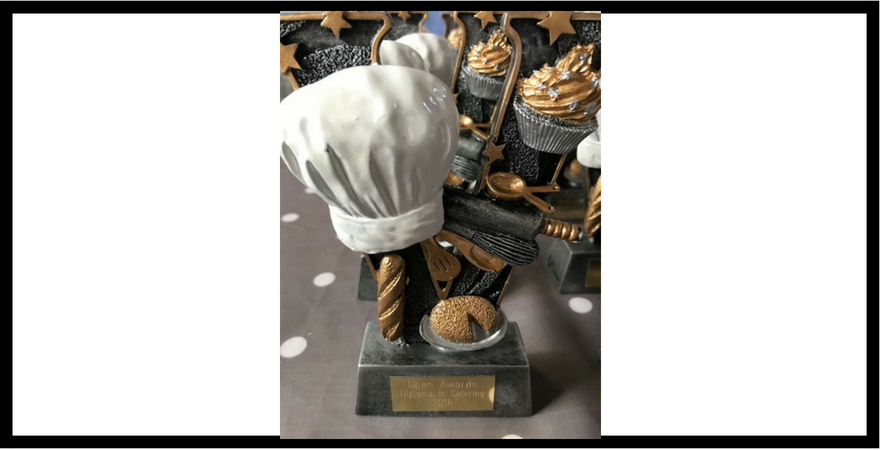 The Annual Hungate Health & Hygiene Awards Night took place on 11th July 2018 at Woodlands Academy in Scarborough.
The event was a celebration for nearly 40 Students from a range of settings across the area, who have completed recognised Open Awards qualifications linked to Catering & Hospitality and Independent Living.
Students from Woodlands Academy in Scarborough, Ryedale Special Families and Ebor Academy in Filey and were joined by their families/guardians, members of staff, school governors and representatives from North Yorkshire County Council (NYCC).
Hungate Health & Hygiene deliver qualifications including the Open Awards Entry Level 3 Certificate and Diploma in Skills for Further Learning & Employment and the Open Awards Entry Level 1 Award in Independent Living.
This year has also seen the introduction of a Catering & Hospitality Work Experience programme certificated through the Open Awards Badge of Excellence – a certification that recognises excellent non-accredited courses.
For the last two years, the students have had the opportunity to gain valuable work experience; running a community café in Filey, setting up Pop-Up Cafes in Scarborough and working in the Woodlands Academy schools kitchen.
Highlights from a successful year for Hungate Health & Hygiene include 
All students achieving an Award, Certificate or Diploma in Cooking, Catering & Hospitality
The introduction of The Badge of Excellence for the Work Experience programme
21 students achieving Level 1 (with exam) Health, Hygiene & Safety Certificate
A NYCC Innovation Award
Inclusion in the Filey Town Centre Guide
Strengthened relationships with the PCSOs for Filey
A visit from the 'Tour de Yorkshire' promotion & marketing team
Promotion in the Yorkshire Coast Homes magazine and a working relationship with Yorkshire Coast Homes
Open Awards Business Development Consultant Peter Steel was in attendance and presented Students with their Certificates and trophies.
Peter said: "It is always a great pleasure to attend the Hungate Health & Hygiene Awards night and to present students with their Certificates and to recognise their amazing achievements.
"It is clear from speaking to the Students, that they clearly enjoy their courses and develop a wide range of skills and competencies that will support progression into further study, employment or independence".
Congratulations learners!
If you would like any further information about these or any of the other Open Awards qualifications, please contact us via the website or call 0151 494 2072.