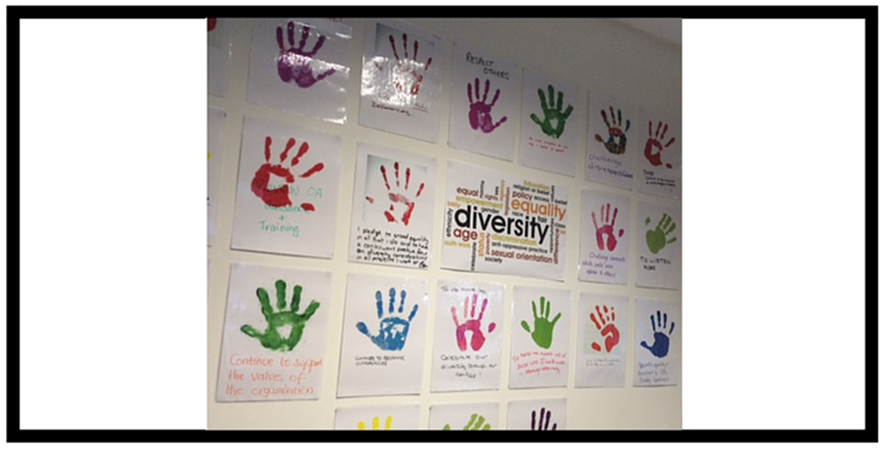 Open Awards' response to Paul Maynard's task force
Only 6.8% of people with learning difficulties are in employment. Apprenticeships have been highlighted as the most effective route into employment for vocational occupations. Surely therefore, it makes sense to ensure that apprenticeships are fit for purpose for people with learning difficulties?
However, apprenticeships are all too often not an option for people with a learning disability. At Open Awards, we have been working with our partners to explore how we can create effective pathways into sustainable and meaningful employment for people with disabilities and are proud to have some fantastic examples of where vocational education has supported people to achieve their employment aspirations. However, with more roles being turned into apprenticeships as part of the commitment to create 3 million new apprenticeship starts by 2020, we need to ensure that these apprenticeship roles are accessible to all learners, if people with learning disabilities are going to have access to the same opportunities. We know that this is not currently the case.  
Therefore, we followed with interest as a new task force, chaired by Paul Maynard MP, was put together in May 2016 with the aim to:
"Reach an understanding of the issues and barriers that affect people with learning disabilities in accessing and completing an apprenticeship
Identify solutions that could help overcome these barriers and raise participation levels
Make recommendations… on which options to pursue"
The recommendations were published yesterday and we think, if acted on, they could make a real difference in making apprenticeships accessible to all learners. The highlights for me focussed on the Maths and English requirement and the alternative recruitment methods.
It has been recommended that the minimum standard of English and Maths required for an apprenticeship be lowered to Entry Level 3 for apprentices with learning difficulties who are able to meet the occupational standards.
I know that many of our centres and partner employers will welcome this recommendation. As an awarding organisation approved to offer Functional Skills qualifications, we strongly advocate that all learners are supported to achieve the highest level of Maths and English they can. We know that these skills are needed and we know that Functional Skills offers an excellent alternative to GCSE qualifications.
However, if somebody cannot achieve a level 2 in Maths and English, this does not mean they are not able to fulfil occupational roles and contribute fully to a workplace. Where an occupational role does not require that level of Maths or English, why are we insisting that the employee achieve this?
An adjustment to the minimum level of Maths and English to Entry Level 3, will undoubtedly, make apprenticeships an option for more people. However, in line with the new trailblazer frameworks for apprenticeships, perhaps we could go a step further and allow each framework to include what the required level of Maths and English is for the specific role? I am sure there are apprenticeship roles out there that could be fulfilled by learners who may not be able achieve an Entry Level 3 Maths or English qualification.
In addition, it has been recommended that the assessment methods for English and Maths be reviewed to allow people with learning difficulties to be able to demonstrate the minimum required in the workplace.
At Open Awards, we particularly welcome this recommendation as we have a history of advocating for alternative assessment methods. Just because somebody is unable to participate in a traditional examination, does not mean they are not able to work at that level in a practical setting. Functional Skills qualifications go some way in addressing this, but still requires a formal, invigilated test as the summative assessment which prevents some people from being able to demonstrate their level of ability.
We know the value of working with education providers to find the most suitable method of assessment for a specific group of learners. This could include witness observations, professional discussions, videos and photographs. We know that Maths and English can also be assessed by alternative methods to traditional tests and exams and we would welcome the opportunity to explore how these alternative methods can support entry requirements for apprenticeships.
As well as minimum levels required to access apprenticeships, the recommendations highlighted recruitment methods as a barrier and has recommended investigation and awareness raising around alternative practices such as working interviews, job carving roles and electronic portfolios. I know many of our centres who specialise in supported employment providers will welcome this recommendation and I am encouraged to see working interviews and job carving highlighted as suitable recruitment methods for apprenticeships.
Other recommendations include 'selling' the support available through Access to Work better. As well as 'selling' the support, we know from our centres that being able to access the available financial support is not always straight forward. This ties in with the recommendation to review all guidance, included the NIACE toolkit, to ensure they are fit for purpose. If we are going to support more people with learning difficulties to access apprenticeships, the guidance, resources and information needs to be consistent and clear to allow individuals and employers to make informed decisions.
To read the full list of recommendations click here .
Apprenticeships will not be appropriate for everybody, but everybody should have access to the same opportunities and access to the appropriate support and information required to make informed decisions about their future employment outcomes.
At Open Awards, we are committed to working with education providers and employers in ensuring learning programmes are accessible to all. If you would like support in delivering apprenticeships, traineeships or supported internships, please contact the team on 0151 494 2072 or info@openawards.org.uk