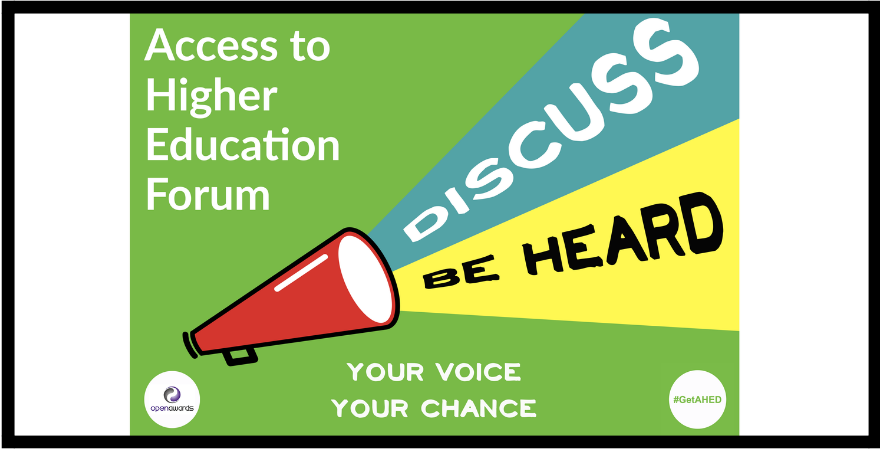 Access to HE Forum
14th November 2018 – The Manchester College
General Updates from the Access Team
Registration Deadline – Attendees were asked if they had any feedback regarding the change to the registration deadline from 12 weeks to 6 weeks by QAA. There were no issues to report but it was suggested that the MIS and Exams teams were likely to have encountered more issues.
Gaps in Learner Data – Most learner data is now in and learners registered on their correct courses. Reports were emailed early in the week commencing 12th November to Access Administrators to ask for any missing data from mandatory fields. To avoid any issues with invoicing, missing data needs to be provided by Friday 17th November 2018.
New Access to HE Officer – We are very pleased to announce that we have a new member of the Open Awards Access to HE team starting on Monday 19th November 2018. Rachel Newman will be joining us as Access to HE Officer. She will be available on 0151 494 4347 or at rachel.newman@openawards.org.uk and ahed@openawards.org.uk.
Revalidation and Panels – We have received responses from most providers now for confirmation of Diplomas that need to be revalidated from September 2019 when they expire. We will be convening scrutiny panels to discuss all diplomas for revalidation and will be in touch with all providers, moderators and HEI contacts to ask for participation.
Providers were also reminded that the scrutiny panels scheduled for March and June 2019 still have places for provider contacts. We have a number of new units and expect more that also need to go to panel this year as well as new diplomas.
Training and Events Pending – Providers were reminded that Open Awards offer centre support training specifically tailored for Access to HE Provision. The following dates are the next sessions to run for these events;
Introduction to Delivery and Assessment – Access to HE
Wednesday 5th December 2017
Introduction to Quality Assurance – Access to HE
Wednesday 5th December 2017
Malpractice, Maladministration and Plagiarism
Wednesday 12th December 2018
Next Forum (all stakeholders)
Tuesday 12th February 2019 – 10am – 3pm
Standardisation
Between 18th – 29th March 2019
Places can be booked at http://openawards.org.uk/training-and-events/
Bulletin – Open Awards now send out monthly Access to HE bulletins to Access to HE Coordinators and Administrators to reduce the number of emails that providers have to read. 2 bulletins have been issued so far. Open Awards would welcome any feedback on the content and format of the bulletin. Feddback can be provided here.
If you or any of your colleagues sign up to the bulletin please do so here.
Policies for Mid-Point Marking – As part of external moderation activities in 2018-19 moderators will be asking centres to ensure that there is a policy in place for the allocation and standardisation of grades including deciding situations where there is no mid-point grade, borderline cases and multiple assignments for a single unit.
Blended Learning Materials – Julie Goodwin (Project Manager for Blended Learning Materials) provided a demonstration and information on the newly-created blended learning materials. The project will produce learning packages for 50 units across the Health Pathway including Human Biology, Health Studies, Psychology, Sociology and Sports and will be available for use by all providers. The project is funded by ESFA as part of the Flexible Learning Fund which aims to help more adult learners access education.
Open Awards want all providers to benefit from the materials but also need providers to participate in feedback on the materials to support further enhancement and the objectives of the ESFA project.
All providers interested in learning more can visit our website here and talk to Julie on 0151 494 4342 or julie.goodwin@openawards.org.uk
Development Areas – In response to requests from providers and to enhance our Access to HE offer, Open Awards are developing units in the following areas in 2018-19.
Digital Skills
Animal Studies
Performing Arts
New Pre-Access Study Skills qualification
Attendees discussed key requirements in these areas and provided valuable feedback which will be used to develop the units. If you would like to be included in these developments or have any suggestions for other development areas please contact ahed@openawards.org.uk
Markbook and Results Entry for 2018-19 – Attendees were reminded of the information sent out to all providers this month regarding the use of a single profile account and user for the entry of results on a course run this year. This is due to duplicate results issued over the summer. Further developments are scheduled for Spring 2019.
World Access to HE Day – National Education Opportunities Network (NEON) have organised World access to HE day which is;
"…a platform to raise global awareness around inequalities in access and success in HE, and act as a catalyst for international, regional and local action."
Open Awards will be sharing events and testimonials through the platform but asked Forum attendees how they felt that they could get involved. It was agreed the ongoing issues regarding the lack of parity in entry requirements for Access to HE diplomas and alternatives remains a serious concern and should be raised for discussion nationally.
Drafts, Resubmissions, Extensions and Referrals – Katherine Wales ran through the purpose and use of these submission options due to a number of issues and reports of misunderstanding throughout 2017-18. For further information providers can contact the team at ahed@openawards.org.uk or refer to the Open Awards Access to HE Provider Handbook or the QAA Grading Scheme Handbook.
Standardisation Activity – Attendees took part in a standardisation activity which reviewed a sample assignment and the use of assessment and feedback across samples of the same assignment. Discussion amongst groups and amongst all assembled provided valuable scrutiny and feedback. A full report will be provided.