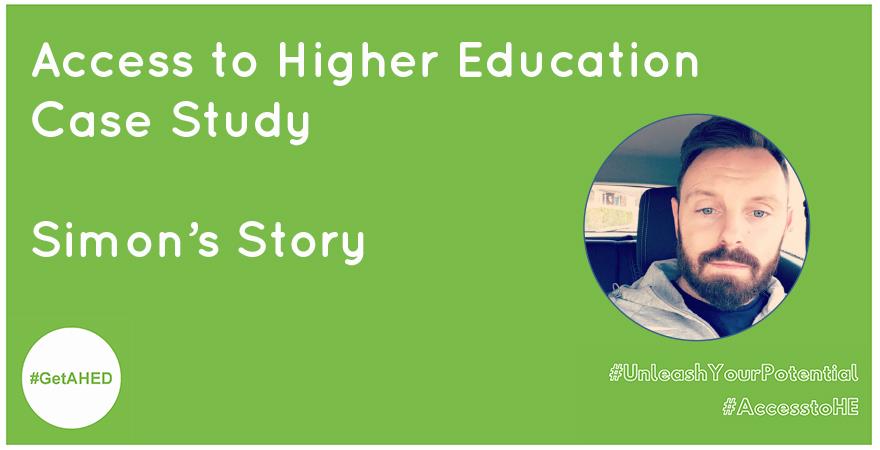 Simon's Story
After leaving school with 1 GCSE (English) at C grade 15 years ago I never thought I would ever return to education. At 19 I joined the Army where I spent 5 years as a soldier in the Royal Signals. At the age of 32 I felt there was more to life then working in a call centre, so I began looking into many different courses but I couldn't find any that were right for me.
It wasn't until I found a passion for Law that I started looking around for courses in that sector and I found an access course at The Manchester College. I knew getting back into learning would be difficult as I wasn't very academic at school but I've always dreamt about going to university but never had the chance, until now. I applied for the course, had an interview and I was accepted! Never in a million years did I, the guy who came out of school with 1 GCSE, think I would be studying Law.
I knew the course would be hard, but it was but exciting and with the help and support of my wife I was able to take my career down a new path and study to become a Criminal or Family Barrister.
The course was hard but the tutors were amazing, they helped me along the way and I wouldn't have been able to complete the course without their amazing teaching and support.
Becoming a student again and being the eldest in my class did not bother me, as I had more life experience than most of my fellow class mates, which also helped when engaging in debates and conversations. 
During my UCAS application I felt immensely proud, looking at different universities and what they had to offer me. I picked Manchester Metropolitan University as my first choice and then had to write my personal statement which was difficult but I was accepted. I had a conditional offer from a University, me Simon Hall potentially going to university full time to study law. As the offer was a conditional offer I had to achieve 5 distinctions and 10 merits to be accepted. Which was daunting, but I did it, in fact, I smashed it with 9 Distinctions and 6 merits in my assignment. I was over the moon. I still am, I have been to a visit day at Man Met Uni and it was better than I could have ever imagined. I am just waiting for all of my grades to be sent across from Open Awards for the university to check my grades and get my official offer. I have achieved so much in the last 9 months of college. I have pushed myself to completing assignments on time, with correct spelling, punctuation and grammar. If I can do it, anyone can. The support I have received is amazing and if anyone has any doubt whether they can achieve something like this, they can.
I will be the first person in my family to go to university and I couldn't be more proud of myself. Now just to tackle the next 3 years at University, complete my BPTC at Manchester Met and hopefully receive a pupillage for a career that I never thought was possible, especially for someone at the age of 33 and who wasn't very academic at school.
Everyone here at Open Awards would like to congratulate Simon on this wonderful achievement and wish him the best of luck in the future. 
For more information on Access to HE, the qualifications we provide and the amazing, life-changing experiences please click here