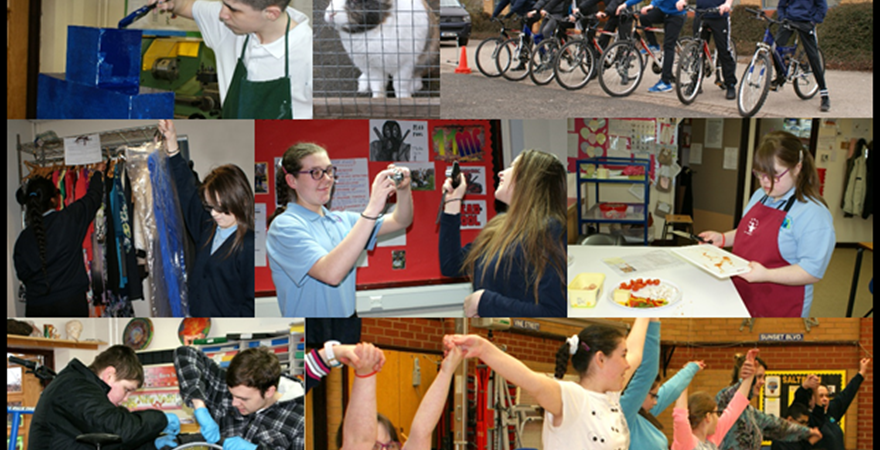 Abbey Hill Academy, Ketton Road, Stockton-On-Tees, is a specialist secondary school for young people with a wide range of learning difficulties and disabilities. 
Their aim is to provide a world class provision for young people who access highly specialised teaching, outstanding pastoral care and a range of dedicated services.
Student learning is often non-linear and complicated by disability or other associated conditions. Their strongest intention is to ensure that all their young people are well prepared for adulthood and achieve their true and full potential.
Academic achievement and developing each individual student's thirst for learning is a priority. They prioritise this by ensuring all their young people feel valued, safe and very important - all of the time. The Learners physical, emotional and mental wellbeing is paramount, as is their desire to build confident, resilient and creative individuals.
At Abbey Hill Academy, they strongly believe that the curriculum should provide a broad and balanced, inspiring experience for all students. All of their students are unique and so the challenge for them is to create an innovative and motivating curriculum that meets the needs of every single young person in their care.
Key Stage 4 curriculum is focused on offering their students key learning experiences that will prepare them for the future. Core skills in Reading, Writing, Communication, Mathematics, ICT, Science, Art, PSHE, Enterprise and PE form their core curriculum and all are delivered by specialists at the appropriate level. They then enhance this core learning with a wide range of vocational subjects through the Open Award Skills for Further Learning and Employment Diploma - "Preparing for Adulthood".
All these subjects provide credits for the Diploma in Skills for Further Learning and Employment (SFLE) at Entry Level 1, 2 or 3 depending on a students academic pathway:
Adventure
Animal care
Art, Craft and Design
Digital Media (Photography)
Food, Drink and Hospitality
Horticulture and Floristry
Music
Performing Arts
Retail
Resistant Materials
Sport, Health and Fitness
Textiles
The students at Abbey Hill said: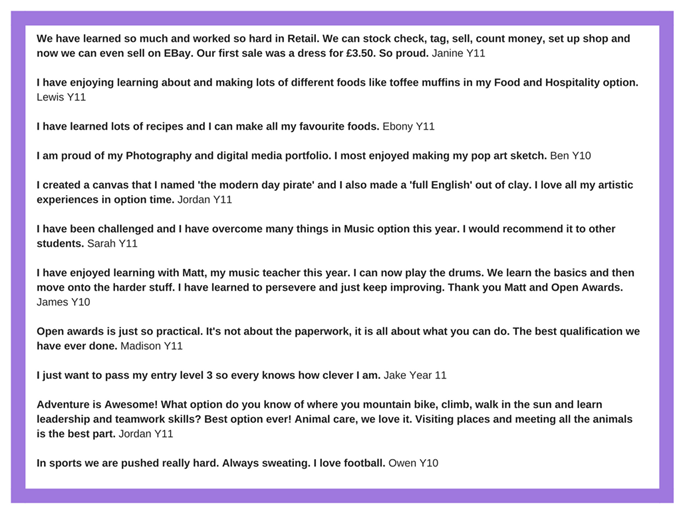 Students at Abbey Hill Academy look forward to Tuesday and Thursday afternoon sessions. They love active learning in subjects that they have chosen. Their students have wonderful career dreams and aspirations and the Open Award Diploma allows them to investigate a range of potential future life choices through very real, challenging and engaging experiences.
For further information on how the Open Awards Skills for Further Learning and Employment or any of our other innovative and flexible qualifications can support your learners, please speak with your Business Development Consultant, call any of our team at Head Office on 0151 494 2072 or email enquiries@openawards.org.uk