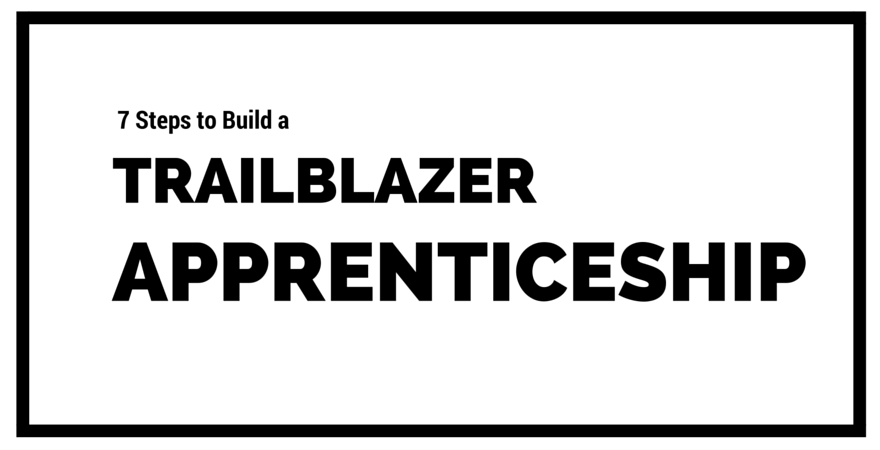 Trailblazers are the new style of apprenticeship that everyone is talking about. This article is a brief guide of what an employer or group of employers would need to develop one of these, along with some information on the types of support Open Awards can offer for this. It is much shortened and simplified version of the full employer guidance on developing trailblazer standards. It doesn't discuss what trailblazers are, but if you would more information on this then it is covered on the apprenticeship reform webpages.
There are seven key steps in developing a new style trailblazer standard which are detailed below:
1. Decide what standards you would like to develop
Normally this will be for a job role in the sector in which you work. The role should require significant training which should last at least a year prior to any end point assessment and be at a level that would allow the trainee to develop transferrable skills
2. Check what standards are currently in development
Trailblazer apprenticeship standards should be unique and not significantly overlap with other standards already in development. An initial scan of the standard in development directory shows the following standards are currently in development nationally. If there is something that looks similar to what you are thinking of developing then it is unlikely that you will get your proposed development approved by the government.
3. Form a representative employer group to develop the standards
You need at least 10 employers who must be representative of the sector, with a good national spread if possible, for which you are developing the standard. You should also consult with professional bodies where appropriate. One of the employers would need to chair the group and act as a link person with the Department for Business Innovation and Skills (BIS). All the employers involved need to commit to use the standard once it is available
Open Awards would be willing to support these types of groups with project management in return for a commitment from those involved to use Open Awards services to deliver the apprenticeship standard upon completion.
4. Submit an expression of interest
This needs to be submitted to apprenticeship.trailblazers@bis.gsi.gov.uk. An example expression of interest is on page 41 of this document.
5. Develop the standard
Once your expression of interest is approved by BIS, you will need to work with the other employers in the group to develop a standard which describes what full competence for your chosen specific occupation means so that, on completion, an apprentice will have the skills, knowledge, behaviour and confidence to perform the role in any part of the sector. You will have a relationship manager from BIS to help, and Open Awards could also support this process.
The standards need to be signed off and supported by all employers, before they are sent off to BIS for approval.
6. Develop the assessment strategy
Once the standards are signed off by BIS you will be required to develop an assessment strategy explaining how the standard will be assessed. This can link to qualifications if employers wish it to. Open Awards has 35 years' experience in designing qualifications and assessments and is available to advise and support employer groups at this stage of development.
7. Delivery
Upon sign off of the assessment strategy the apprenticeship is ready for delivery. Employers can commission training providers to deliver it and draw down public funding.
If you would like to speak to us about developing a trailblazer standard then please get in touch. Contact Ben Rockliffe our Head of Business and Strategy ben.rockliffe@openawards.org.uk 0151 494 4360.