Open Awards Level 1 Award in Employment Skills for the Creative and Cultural Industries (RQF)
Key Information
Qualification Code: 600/4990/X
Sector: Arts, Media and Publishing
Level: L1
Start Date: 01 April 2012
Review Date: 28 May 2022
Guided Learning Hours: 53
TQT: 60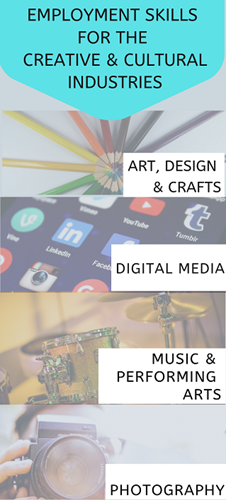 These qualifications have had their structure simplified, aiding your curriculum planning.
For the Award, learners complete one mandatory unit 'Improving own learning and performance'. Then choose 3 credits from Optional Unit Groups B1-B3 which are:
B1 – Employability
B2 – Personal Learning
B3 – Personal Development.
For the Certificate, learners complete the same Mandatory unit and have a choice from the Optional Unit Groups B1-B3, as listed above.
They also have Pathway Option groups C1-C4 which are:
C1 – Art, Design and Crafts
C2 – Digital Media
C3 – Music and Performing Arts
C4 – Photography.
We have simplified the structure moving generic units into the B groups and all other units to the pathways.
These qualifications have also been extended to 31 August 2027.
To view our updated qualification guide which will go live on 01/09/22, please click here.