Validity Review 2020-21
Validity Review – Autumn 2020
Reviewing Qualifications is part of our duties as an Awarding Organisation regulated by Ofqual.  When we develop qualifications, we add a review date which is normally 5 years' hence. This is to ensure our Qualifications remain valid and that there is still a demand for them.
Validity is a great opportunity for you to feedback on our qualifications. You can help us to check whether the qualification still provides an appropriate output of skills and knowledge in relation to its title, purpose and content.  
In order to ensure continuity of accreditation, we give plenty of warning ahead of time that qualifications are being reviewed. Therefore, starting this Autumn Term we have 93 qualifications that we would like your help in reviewing. They sit under the following broad headings: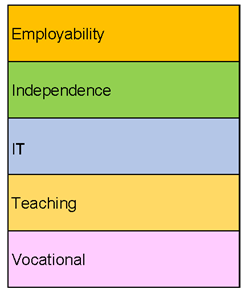 For a full list of the qualification under review, and which area they align to please click here.
What happens now? We would like your feedback on these qualifications and there are several ways you can participate:
Survey - You can complete our online qualification survey. Please complete one per qualification using the link here. We will be writing to our customers who are currently using these qualifications too.
Validity Panel – You can participate in one of our Validity Panels. These will be conducted via Zoom and will cover a range of qualifications in Employability, Independence, Teaching or Vocational. A full list of Panel dates is below, please click on the link to book a place.
Please note all feedback for IT Qualifications is by Online Survey only.
The deadline for all feedback is Tuesday, 3 November 2020
by close of business at 5:00pm.
We will then process all feedback received and inform you of the actions by the end of January 2021.
Please help us to shape our qualifications for your learners' progress and future.
Event Ended This event has now finished.