Qualification Approval
To request approval to deliver any of our qualifications,  you will be required to submit the appropriate request form.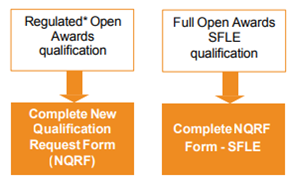 NQRF, NCRF-SFLE and NCRF documents must be submitted prior to the qualification being delivered. Failure to do so could potentially result in learners not being awarded. To offer a Skills for Further Learning qualification you must package the units you wish to offer into a course using the NCRF – SFLE Form.
Where can I find these forms?
These forms can be found under the 'View Documents' section of the Secure Portal (Resources / Documentation page under 'Open Awards Templates'). To access documents already completed select the name of the document from the drop down menu.
How do I submit these forms?
Completed forms should be submitted via the Documents section of the Secure Portal. More information on downloading or uploading documents can be found under the Documents section of the Secure Portal Guidance. 
What happens when I have submitted these forms?
Open Awards process these forms within 5 working days of receipt. If the application is successful, you will be sent a qualification or course approval email, including a link to the relevant qualification guide, or a course confirmation report.
For more information, please visit our Centre Handbook or watch the video tutorial below. 
This demonstration video covers: 
What is a New Qualification Request Form (NQRF)
How to complete the NQRF
How to submit the NQRF
What happens next